Earning Fast Chips !

+ Add

Tip & Cheat
Earning Fast Chips !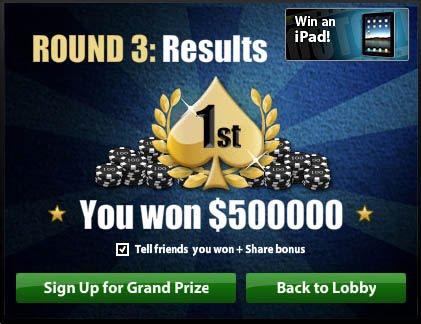 Hi , i know that you are wondering how to get 1 million chips easily in Texas Hold'em Poker so i am going to show you :
1st of all go to tournament and start with round 1 , in this round you will pay only 2 000 $ of chips , and when you will enter this round you will see that everyone ,well almost everyone goes all in right at the get go so you just fold ! After the first hand , they will be only 3/9 persons on the table so you have now a chance of 1/3 to win this round before it was 1/9 :D
After winning the 1st round you will get 1 000 $ and you will be able to participate in round 2 , and in round 2 just do the same things i told you to do it in the 1st round and you will do fine .
After that you will win 15 000 $ and you will enter the 3rd and the final round , in this round the other players are really serious so you have to be like that too , and if you got lucky you will win this round and you will earn 500 000 $ to make your TOTAL EARNINGS : 516 000 $ , Enjoy !
---
---