MEDIC - The total guide by Raytiger3

+ Add

Strategy Guide
MEDIC - The total guide by Raytiger3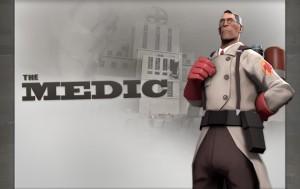 Medic – "Ze doctor"
---
Again a TF2 class guide from Raytiger3, in the same style as my previous guides:
http://www.fanup.com/team-fortress-2/guide/pyro-total-guide-raytiger3 - The full guide on Pyro
http://www.fanup.com/team-fortress-2/guide/scout-total-guide-raytiger3 - The full guide on Scout
---
The motto: "Prepare for your examination!"
"Let's go practice medicine!"
------
BASICS
---------
-You are the healer! Use your secondary (Medi Gun) to heal teammates by aiming at them,
-
-You have an "übercharge", you get this by (over)healing teammates. Once full, you can unleash it with your right mouse click for invulnerability for yourself and your healing target.
-
-You move a little faster than most classes, but you're very fragile. Be careful when your patient is going into the battlefield, keep in mind: even a feather can kill you.
-
-The Medic is an underplayed class, please play medic, as a healer…
-
-Your role in the team, is probably the biggest: healing. Keep in mind that you're not a battlemedic, although battlemedic is fun to play.
-
-You are the only class to regenerate health (except for the Sniper with the Cozy Camper secondary weapon). 3 health each second, although this goes up to a maximum of 6 health a second, depending on how long you're not getting hit.
-
-No. You're not a freaking battlemachine. Please don't rush forward and try to kill enemies with your Syringe Gun.
-
-Yes. You can kill enemies, don't be afraid to let go of your patient, as long as they're at 150% health and not in the middle of the battlefield, they won't die that quickly. Your Syringe Gun/melee can kill enemies quite easily if you practice a little.
------------------
TACTICS
----------
The Medic, the most important class, keeping your allies alive and overhealing them. Medic needs communication the most of all, that's why "E" is the button to call for MEDIC! The Medic can turn the tides very quickly for much battles, thus the Medic could be "the credit to the team/win". A Medic is nothing without good teammates, you rely on teammates to protect you, you're not totally defenseless because you also have weapons! We'll start with the Syringe Gun. The Syringe Gun is a very good close combat weapon, dealing 10 damage (5-12 damage, depending on range) each shot with a great 10 shots a second rate of fire, but the syringes travel in an arc and slower than regular bullets, this makes a Syringe Gun fairly hard to use for a new FPS-games player, keep this in mind: syringes are slow, are not the best weapon ever and move in an arc! A few tips: shoot above the target and in front of your target, how far you're required to aim totally depends on which way and how fast your target is moving. To do this perfectly? Practice, practice and practice. Moving on to the Medi-Gun, you charge the übercharge faster when you heal a non-overhealed target, you can switch between targets by clicking at a different one, keep doing this and switching consistently to non-overhealed targets will help charging the übercharge faster. Speaking about the übercharge, I'll devote a part to some tactics/tips with the übercharge. Your Bone Saw is nothing but a regular melee dealing 65 damage, use this when enemies come too close! There are better melee weapons though…
Now we'll go on to the overall tactics when using the Medic. Hide behind your allies, they act well as meat shields (haha. You're evil!), just stay behind and heal the wounded. The best targets to overheal are Heavies and Soldiers, eventually you can overheal good Scouts, Pyros and Demomen. "pocketing someone" is to keep that player as your main patient (A.K.A. healing buddy), that's usually the heavy, or your friend playing with you!. Pocketing the Heavy/Soldier is very smart to do, but please: don't let the others die because you were "pocketing the Heavy", also heal others aside from the Heavy. When your Heavy is at maximum overheal and not in battle, he probably doesn't need your consistent heal. Also, dodging is a VERY important part about being a Medic, good players won't aim on your Heavy, but on you. Keep that in mind and dodge as much as possible!
--------------
ÜBERCHARGE
--------------
Note: übercharge means "overcharge" in German. One of the most important things about the Medic and pushing the frontlines, an übercharge. The übercharge makes you and your patient totally invulnerable to any incoming enemy damage (no promises for Pyros airblasting you off cliffs), great for destroying level 3 sentries without a Spy/Demoman. The smartest players will use the übercharge on Heavies or Soldiers, because they're usually on the frontlines pushing and receiving/dealing the most damage. Keep in mind not to randomly unleash the übercharge, wait until your patient almost dies, then at the last second: right mouse click, to achieve the maximum out of the übercharge! Also, it's better to use your übercharge for self-defense rather than dying and totally wasting it. Your patient will receive kickback from enemy fire, so you should walk through first, you're totally invincible after all. You have 8 seconds to totally demolish your enemy and then… I'm sorry but: you're on your own. A great tactic is 2 medics with übersaws (25% übercharge each successful hit). One medic übercharges the other one, while he runs at enemies with the übersaw, after that, the roles change. Recommended is doing this with friends only, or someone which seems to understand this and play well. This is fun and also very effective at killing off the enemy team!
----------------
BATTLEMEDIC
----------------
The battlemedic, also known as "combat medic" or "troll medic". It's called a "troll medic", because you're playing the healing class and not… you know… healing! Battle medic is only recommended to play if you're really good at TF2, battlemedics can be divided in 3 subclasses: dual-battlemedics, the syringe battlemedic and the medieval battlemedic (crossbow). The dual-battlemedics are a duo of übercharge battlemedics that use 2 übersaws and their Medi-gun, relying on each other and their übercharges, like explained above. The syringe battlemedic utilizes the Syringe Gun, Overdose or Blutsauger, giving the enemy a barrage of syringes. This actually can be effective at close combat, but still not better than most weapons in close combat. The Medieval battlemedics are the medics using the Crusader's Crossbow and Amputator to achieve a +1 base health regeneration, letting them regain their health 33% quicker, usually they stay behind for the inversed damage-range of the Crusader's Crossbow (explained below). Battlemedics are fun, but really annoying because they don't heal, but fight, which they're not made for...
------------
TAUNTS
------------
The Medic has a few taunts (F = taunting) with actual effects, the Kritzkrieg, Übersaw and Amputator taunts all have effects, which can be used effectively! The Kritzkrieg taunt heals the player with 11 health, not really THAT effective, but can be useful at times when health packs are scarce. The übersaw taunt is the killing taunt of the medic, stabbing and retracting forward with the übersaw causing over 500 damage. A successful stab adds 25% übercharge and if the retraction also "hits" you achieve another 75%, thus you're able to get 100% übercharge within 5 seconds! The Amputator taunt heals all allies around you for 4 seconds at a speed of 4 health a second. It's nice if you have a lot of wounded around you and want to heal them all, quickly. 
-----------------------------
TACTICS PER WEAPON
----------------------------
Syringe Gun
The standard primary weapon, it's a nice self-defense thing against scouts and spies, but killing any targets "bigger" than that isn't really easy nor recommended. Rely on your team for the killing work!
-
Blutsauger
The blutsauger, the -2 health a second decreases your base regeneration to 1 health a second, but hitting an enemy with a syringe rewards you with 3 health, each hit. This is preferable for a battlemedic, but when you're planning on pocketing someone, the regular Syringe Gun or the Overdose (next one) is preferable.
-
Overdose
Great when you're pocketing and playing defensively only, this increases your speed up to 10%. This makes dodging a bit easier at higher percentages of übercharge, when you definitely don't want to lose it. Although you can't win from a Scout in a running match, you still feel like a fast sprinter!
-
Crusader's Crossbow
A crossbow, which shoots 1 arrow a shot and needs a reload after every shot (I'm really happy that this reload doesn't take ages!). This weapon has a remarkable range, the further an enemy is the more damage you deal. The damage scale goes from a mere 38 damage up to a devastating 75 damage! The damage of the critical hits are also affected, they go from 113 to 225, killing off most classes in 1 shot with crits. Note: this weapon is part of the "Medieval Medic" set, along with the Amputator it gives +1 base health regeneration a second.
--------------
Medi-gun
The good ol' stock Medi-gun, great for defense and attack. But the Kritzkrieg can be preferred at some moments. The Medi-gun has nothing special. It overheals up to 150% of the maximum health of the patient.
-
Kritzkrieg
The Kritzkrieg, it charges the übercharge 25% faster and the übercharge isn't for invulnerability but 8 seconds of full critical hits! Probably you only should use your übercharge on Demomen, Soldiers and Heavies. They're the main damage dealers of your team and if they have crits… Massive slaughter.
-
Overdose
Probably the worst medi-gun around, you can't overheal, you can't get invulnerability nor critical hits. The only pros of this medi-gun is that you have 40% extra heal speed and your übercharge is 3x as much healing speed (which is ridiculous honestly). Just… don't use it, the overheal and übercharge is so important…
-------------------
Bone Saw
The plain old boring melee weapon. Dealing a standard 65 damage, it's quite reliable but the next weapon…Also, the Amputator and Solemn Vow are straight upgrades to this weapon, so why not use those?
-
Übersaw
I always have this equipped on my medic. It grants 25% übercharge on each hit and 100% on a successful taunt kill. Even though it stabs people 20% slower, the übercharge is better and who uses this all the time?!?
-
Vita-Saw
The vita-saw can keep 20% of your übercharge after death in trade of 10 of your maximum health. It's good for competitive gameplay but overall, this melee is sort of useless…
-
Amputator
The only reasons to use this melee is for the Medieval set (along with the Crusader's Crossbow it grants +1 health base regeneration) or for the healing-taunt. Note: this has no downsides and thus is a straight upgrade from the Bone Saw.
-
Solemn Vow
It's also a melee which is a straight upgrade from the Bone-Saw. This melee weapon allows to you also see enemy health, great if you can finish them with your Syringe Gun. This also is very effective if playing competitive, you can tell your team that a certain enemy has low health.
-------------------
LOADOUTS
--------------------
Medieval Medic set
This set consists of 2 weapons: the Crusader's Crossbow and Amputator. It increases your health regeneration by 1 health a second, bumping it up to 4 health a second!
--
Raytiger3's personal sets.
--
My personal sets which I use are:
A. Blutsauger
Medi-gun/Kritzkrieg
Übersaw
B. Medieval Medic set + Medi-gun/Kritzkrieg
C. Overdose
Medi-gun/Kritzkrieg
Solemn Vow
A, is for regular playing. I choose the Medi-gun/Kritzkrieg depending on my mood and team. If I have a good team with a good Demoman/Heavy/Soldier I'll go Kritzkrieg. If my team has some trouble with a choke-point or sentries, I'll go Medi-gun.
B, is when I feel to kill things with my Crossbow. I'm pretty good with it. Overall: sniping the Snipers is fun!
C, I use this when I'm with friends + communication, it's great when I pocket him!
--------------------------------------------------------------------------------------------------------------------------------------------
This was pretty much my guide don't forget to leave a comment, fan and/or leave a tip/compliment/question in the comment section! This was just another TF2 guide brought to you by Raytiger3.
-
-
-
P.S. Leave a comment on this guide or on my page, even if it's just a spelling mistake, I'll look at it and give a reply ASAP.
---
---