:-Tiger Galil -:

+ Add

Strategy Guide
:-Tiger Galil -: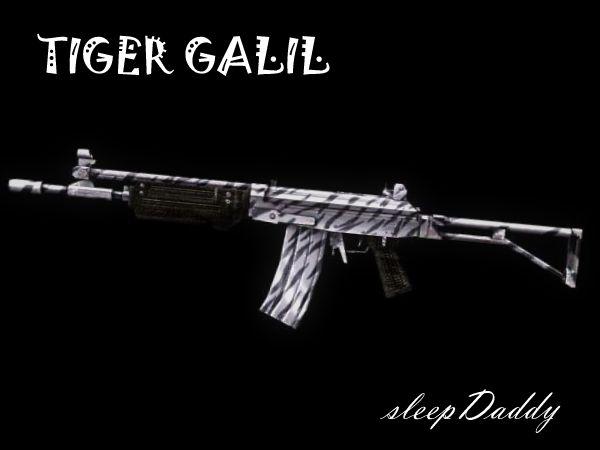 Hey guys this is user sleepDaddy and today I have an interesting review about a gun. Well this is not very famous but it is often used by a hell lot of Pros.The gun is non other than the Tiger Galil. Some say it's a COMPLETE PACKAGE but is it true?Lets find out.
---
ABOUT THE GUN
As I have already mentioned earlier that this is not a famous gun. Well the reason might be because the gun unlocks after a you become a liuetanent.Another reason might be that its costly.But let me tell you guys this is a complete package. The reason is that it has everything in perfect. You name it High Damage , Accuracy ,Low recoil. Well there are hardly any guns that can match with this. This is the only colored gun which could be bought by SP because the rest are weapon bombs. This is another reason why you should have it. They have added another tiger galil introduced with a scope here is the pic:-
Now let me tell you this weapon is named as the Evil Galil rather than the Tiger Galil. The evil galil is another gun which can be bought using SP. Well the accuracy of the Galil is already good but with the gun its just perfect. I have both the Galil's and its really good to have them. In the begining it might seem hard for you to play with the scope but its fine afterwards.
Lets move on to the Tiger Galil.As I already told you this is surely a good gun which is to be bought by everyone. The gun is also good with the portability. Hence the gun is just perfect for you if you are a frequent Team Battle player. To be honest I bought this gun only because it looked quite awesome.But as I played more and more it seem to have much more. If you are a new player then I guess its the best weapons that I can suggest you. You need to weight before you can buy this gun because you can only buy the gun after you are a lieutanent. Don't you worry it does not take time ,play frequently and boost often and I guess you should be fast with your EXP. This gun costs 55000 SP / 115 G coins.
---
DETAILED INFORMATION
If you are unable to see the pic here it is :-
-DAMAGE - 8.5/10
-ACCURACY - 9.5/10
-RECOIL - 10/10
-WEIGHT - 5.5/10
-RATE OF FIRE - 6/10
Lets get on to the detail with each one:-
- Damage:-
The damage is 8.5/10. Well this is quite good because it requires only 4 bullets in the chest to kill the enemy. It requires a bit more in if you shoot in the legs. But it takes lesser than other guns.
-ACCURACY:-
9.5/10 says it all. As per the scale it is markes as perfect. This also means that the gun is quite good both from a far distance and close distance. In the evil galil its much more better.But yes it doesn't quite make a lot of difference but with the scope the 9.5 increase to 9.7
-RECOIL :-
Well the recoil is quite bad. If you keep on shooting the gun goes up. But if you shoot with few breaks it should be fine. This is the only way you can overcome the recoil.But it wont be an issue when you get used to the gun
-WEIGHT:-
5.5/10 yes is the weight of the gun. It is air light. It is just like carrying a pistol or may be less than that. Let me tell you the weight does effect the portability and hence the portability of the gun is excellent.
-Rate of Fire :-
Well the rate of fire is 6/10. Well this an average which leaves me nothing much to talk about the rate of fire of the gun.
---
PROS AND CONS
PROS
DAMAGE
ACCURACY
WEIGHT
CONS
PRICE
RECOIL
---
PICS AND VIDEOS
----
---
THIS WAS THE END TO THE GUIDE I HOPE YOU HAD A GREAT TIME READING IT. IT TOOK ME A LONG TIME PREAPRING THIS GUIDE BUT IT SURELY WONT TAKE TIME FOR YOU TO FAN IT SO PLEASE DO SO
TILL THEN,
sleepDaddy!!!!!!
---
---

Please try omitting spelling mistake as they cannot b edited :(