AWP Review

+ Add

Tip & Cheat
AWP Review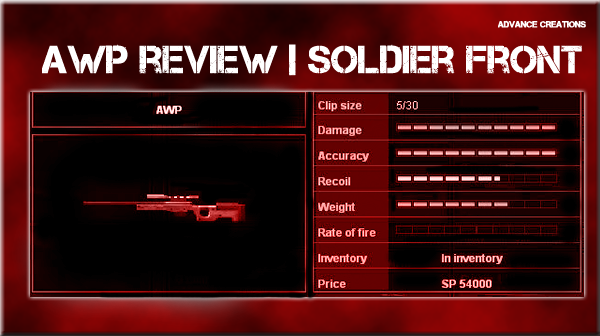 -
Weapon Specification:
AWP, Arctic Warfare Polic, was invented by Accuracy International from England and is also known as L96. British and German militaries introduced this gun in 1980. 7.62 NATO bullets are generally used, but 308 Winchen bullets or 338 Rapua bullets are also used. This sniper dominates the other snipers in terms of power.
-
Weapon Breakdown:
The AWP is an accurate, powerful sniper. Armed with a double scope offers more precision and is quite a balanced sniper. With this the long range ability is increased whilst maintain the damage power similar to the Dragunov. It is a bolt action rifle and is known for its no scoping ability. Whilst in double scope, the sensitivity of the sniper increases, and it becomes harder to aim. It is quite a reliable sniper and has many aspects of other snipers. However, unlike other snipers it doesn't auto reload.
-
-
Weapon Damage:
The AWP has high damage; in fact it is one of the most powerful snipers you can have. It's a reliable sniper for someone who is looking for 1 hit kills. It is claimed that it is armour piercing but whether this is consistent is beyond me. There is no doubt, looking at the damage slide and in actual gameplay, that the AWP is a lethal sniper and cannot be tested in terms of damage. Combine this with great accuracy and you've got a pretty good sniper.
-
Weapon Accuracy:
The AWP is extremely accurate. It boasts a double zoom with x4 and x10. This offers more precision and accuracy for the player. Whilst it has a high ROF, it is also known to be great at no scoping – known to be quite reliable in this aspect of up to around as far as 8m. It offers users extra scoping abilities which can be only seen as improving accuracy. In fact, the problem with this may be adjusting to the scope and coming in and out but this is a minor, if not an issue at all. More of a problem will be quick scoping such as trying to come out of double scope to quick scope for example, can be difficult but experience makes it easier.
-
AWP Scope:
-
AWP Scopes: Here you can clearly see the addition of the zoom on the AWP and how it can increase accuracy (normal - left) and (zoom - right), although when zoomed in, the sensitivity increases as well making it slightly harder to aim.
-
-
Weapon Stats:
-
Clip Size: AWP has 5 bullets per clip. This is normal for snipers; there are no other variants of AWP unlike the other snipers. Note: There is no auto reload with AWP so don't get caught out.
-
Accuracy: AWP has very high accuracy. Especially, with the double scope which gives it extra precision. Although the sensitivity goes up, it's using it at the right time and not all the time. Whilst quick scoping and no scoping can be done pretty well and reliably with the AWP.
-
Recoil: Recoil is not significant and not very impacting on performance
-
Weight: is actually not that heavy but in comparison to other snipers, someare much lighter and have a lighter feel such as the DSR.
-
Rate of Fire: Rate of Fire: Fast
-
-
The Pros/Cons stats explain itself really. Great accuracy and damage with excellent no scoping abilities. Whilst also being on the slightly weighty side (not really heavy game, feels kinda light to me and no auto reload with a sensitive scope when zoomed.
-
A AWP Tips
· - Practice using the scopes and coming in and out
· - Take advantage of the damage it retains
· - Don't be as reluctant to use it for no scopes (compared to other snipers)
· - Learn to adjust x10 scope whilst aiming.
=
Thanks for reading.
Gameplay Vid: (Sorry I couldn't find a decent AWP video)
-
a
---
---