Priest in Peril Quest Guide

+ Add

Tip & Cheat
Priest in Peril Quest Guide
[Starting point: King Roald in the Varrock Palace.]
--
[This quest is Members only.]
--
[Difficultly: (Novice)]
--
[Length : Medium]
-----------
Skill Requirements: None.
Quest Requirement: None.
Item Requirement: 50 rune or pure essences (un-noted), A bucket.



Recommended, but not needed: A wicked hood (which you can get a free one in burthrope

Enemies that you will face: Cerberus (Level 48) , Monk of Zamorak (Level 34).
---
Starting out:
-
Talk to King Roald to start your quest.

Then go north-east of Varrock and knock on the door of the temple. Drezel will talk to you.
-
Help him, by killing the dog in the dungeon near the temple.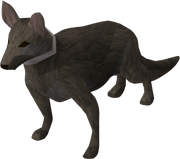 After you have killed the dog go back up and knock on the door of the temple again. After you will hear laughter.
-
Now go back to King Roald, he will get mad and send you back to fix the problem. Go back to the temple.
-
Enter the temple and kill a monk. They will drop a key. If you don't get one, kill untill you get one.
Now go up the stairs in the temple and talk to Drezel. Now go back outside and into the dungeon.
-
Go though the gate and then you will see Monuments. There will be one with a key. Swap it out with thr golden key.
-
Go to the well and fill your bucket. Return to Drezel and use the iron key on the door. Then he will bless the water then use it on the coffin.
-
Then go back down into the monument room then talk to Drezel, and bring him the essences (You may have to bring the essences to 2-3 trips)
-
When it is done, you have finished the quest!!!
---
REWARDS
1 Quest Point
1,406 Prayer Experience
The Wolfbane Dagger

5 Kudos
Added Varrock Museum display of a werewolf
2 extra spins on the Squeal of Fortune

---
Hope this helped anyone, if you have any questions or conserns, feel free to ask me.
Credits to Runescape Wiki for providing the pictures..
---
---

Hey, nice guide but to improve, you could center it to make it more aesthetically pleasing, and also you can get rid of the dashes because with the MSG badge, spaces actually work. (Same comment from the guide you posted)