M.A.T ( special edition )

M.A.T ( special edition )
Hey guys this is idiot stunt and the following passage will give you a brief description on Mission Against Terror.It was published in 2010 in North America by Suba Games and was available worldwide throughout the world like in Malaysia. The graphics of this game are very similar to games like crossfire and combat arms but the people did not like much about this game. If anyone has played counter strike he/she may be very familiar to this game. The only difference is that game became popular but this game remained where it did. While the games like wolf team or A.V.A are really doing a great job by introducing new things are doing various updates but this game is getting nothing for the table and so it becomes very boring.
---
POOR START!!!
When you begin with the game, I mean to say when you download, install and launch M.A.T (Mission against terror) I was very disappointed with this game. I noticed that there are very less graphic options. Even if you increase the revolution, the visuals are still the same and this really is irritating. Gaming wise aiming and firing feel very awkward and very difficult to get used to it. Even though I sat for hours and hours on this game but I could never get the shooting mechanics in the game. I got better kills and fewer deaths but the firing mechanics just flew off. The game quality is not good at all. As compared to counter strike it has developed a lot and has been successful. The other problems with this game are that they don't have enough stuff with them.
---
CONTROLS!!!!
The game has many features which would be easily accessible by a user but the worst thing is that there is no recovery of your health by dancing. The moderators have to concentrate a lot to improve this game. The good thing that I like about this game is that by pressing the key 'v' a player keeps his weapon aside and shows some kind of dancing moves which will regenerate your lost hit points which I think is the best thing but the loss of this is when you do this your are a kind of AFK and if by chance an enemy comes and sees you then he can definitely kill you and you can't do anything. So I advise you to choose a secret place for all this so you can recover faster and nobody kills you. There are many costumes available in the store which really looks cool when a player is dancing but you have to buy them. There are many other weapons and much kind of costumes available in the store. Even though there are many weapons in the store there is a major problem in accessing them. A player demands for each and every weapon which is possible but you need a lots and lots of money. More are the kills by a player in a single round the more of silver will be earned by him and can enjoy buying weapons and life in the game is just set. As your experience increases your level up but in this game the rank truly doesn't matter at all, the only thing that matters is the silver so you can but many other weapons and armors and other stuff available in the store.
---
WEAPONS LOW QUANTITY!!!!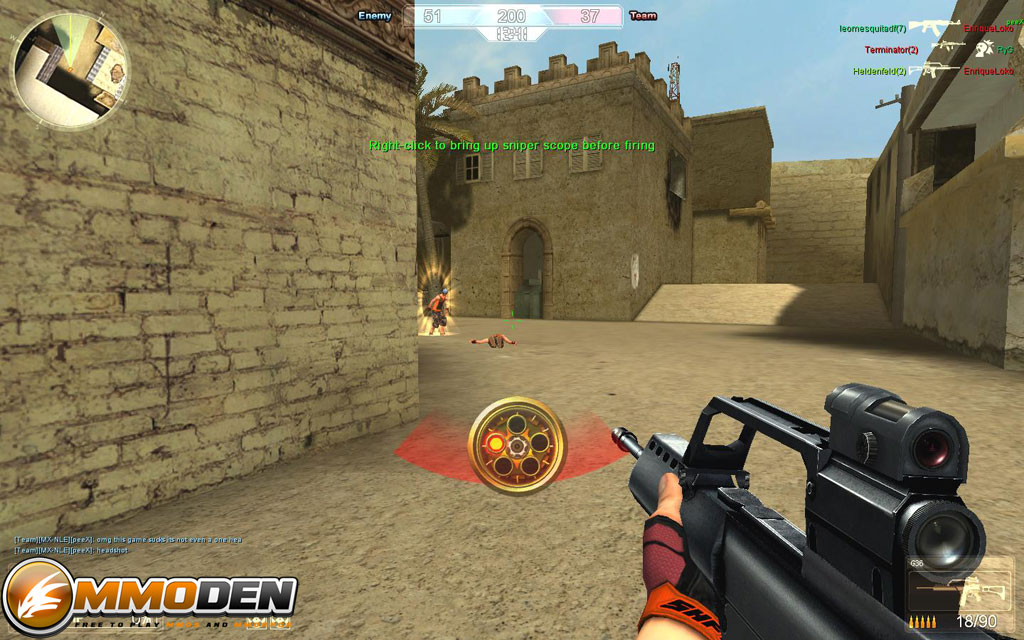 After playing other games like wolf team or combat arms which have around 30+ weapons and this game has a horrible collection of weapons and other stuff. I am not opposing this game but this seems that there is no variety in this game. Because of the less variety this game has suffered a lot which will leads to failure of popularity. Aside from weapons in other games players also get a chance to purchase other items which in this game is in very less quantity. For e.g. people in other games can buy beautiful and sensible clothes for their avatars which attracts every user and the reputation of the game. Since they don't have extensive variety the customization of every feature is missing and this really bores a player and he/she leaves this game.
---
FAMILIAR!!!!
The first map that I did try was Nile valley which is exactly same as De_Dust 2 in counter strike. So as you can see this game is trying to copy every aspect from counter strike. The other map is Cross range which is identical in design to the Ice_World in counter strike. I am sure that other maps may be also taken from on or the other game. The background music of the game is a remix types which is also copied from the pirates of the Caribbean main theme. The map designers of this game feel too lazy to create a proper map.This game has limited modes and maps. The most popular or liked is the team death match or the bomb mode which the players play. In the team death match there are two teams and whichever team gets 100 points first wins which is also copied from the game known as soldier front. The bomb mode is also known as team battle again copied from soldier front. In this you have to plant and defuse bombs. It also includes terminator and ghost modes. In the mummy mode a host zombie is selected and are melee characters which have a lot of HP. Their main objective is to infect other players with their smoke and blood by killing them. Humans kill them and earn EXP and get extra money for surviving for the whole round. Human do many nade jumps and nades to reach at a place where the mummies cannot reach and so they can earn more cash.
---
CONCLUSION!!
They could have made it better. They have limited maps, weapons, game modes and some more balance is requires to make it better.
So this is the end of my guide!!!!! I hope you came to know a lot…If you have any problems or if you find some default please don't fear to tell me I am always there to help you!!!!!!! Sorry for opposing this game but the truth is the truth!!!
Till then it is "idiotstunt"
---
---