Some Minecraft Minigames

Some Minecraft Minigames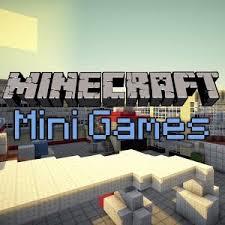 Minigames are very fun to play and make in Minecraft. Here are some of my favorite Minecraft minigames. Most of these are very easy to make.
---
Rollercoasters:
Rollercoasters can be fun even though they take time to build. You will need lots of rails. They can be ridden by single players or together with a lot of friends. Rollercoasters are great on any server.
---
Spleef:
Spleef is one of the most popular minigames and played by many people. Spleef is a fun game in which you try to destroy the floor under your opponents and make them fall into lava.
There are a lot of different versions of Spleef.
---
Pig Racing:
Get on a pig and lead it around a track with a carrot on a stick. Speed and skill will get you to the finish line first! Find out who's the best pig racer on your server.
---
Horse Racing:
Saddle up on your horse and ride around a track. Add blocks and fences to jump over. Find out who's the best horse racer on your server.
---
Pacman:
Place torches in a maze to act as the coins in Pacman. Knock out all the torches before the other players (ghosts) capture you. Pacman is a fun and exciting mini game.
---
Miniature Golf:
Play a fun game of miniature golf with friends. Just slide snowballs or slime balls on the ice and try to aim for the right holes. Who will be the best golfer?
---
Duck Hunter:
This classic NES game is a great minigame which is great fun to play. Just put some chickens in a little box with trees and a blue background to act as the sky. Then shoot the chickens with a bow and arrow. You can play on your own or challenge your friends.
---
Conquer the Sheep:
Conquer the Sheep is a fun minigame in which 2 teams battle each other to get the most wool in the color of their team. You use dyes to color the sheep and then either shear or kill them for their wool.
---
Archery:
Compete with your friends or with the whole server. Just make some targets, and give all participants a bow and some arrows to shoot at the targets.
---
Arena Battles:
Destroy your enemies or fight of waves of mobs. Fight on your own or with others. Just build a small arena and get some monster spawn eggs.
---
King of the Ladder:
Build a tall pole with blocks and put ladders on all sides of the pole. Then give everyone a bow and arrows. Whoever gets to the top of the pole first wins, but other players can knock you off by punching or using the bow.
---
Comment which minigame is your favorite. Have fun with these minigames!
---
---

chenyingying20180712
chenyingying20180712