Guide on crowd control effects

+ Add

Tip & Cheat
Guide on crowd control effects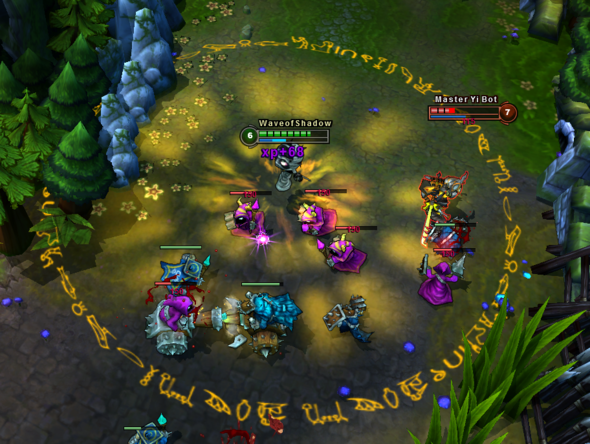 Hi everybody! here is ultrascati95 with a short guide on Crowd control spells (CC).
==============================================
>What is a Crowd control:
CC spells are all those which have a stat effect on enemies that can help in chasing and teamfight like: slow, stun, snare, blind, knock air, knock back, fear, taunt, silence, polymorphe (lulu's spell), charm (Ahri's spell), entangle (Amumu's ultimate) and Suppress (WW and Malza ultimates).
...............................
-Slow:
A slow is a stat effect that decrease the movement speed of an affected target by X% for Y seconds. This is the most common CC that you will find in League of Legends and can be dealt by certain spells and items (phage, frozen mallet, rilay crystal scepter, ecc...). In combination with an high damage champion, this CC will result to be an effective combo!
..............................
-Stun:
A stun is a stat effect that make an affected target unable to make any action, (neither moving!) for X seconds (max is 3,5 seconds with Ashe's ultimate). This CC is so strong that few spells can deal it and have always a short duration (overall 1-1,5 seconds) and have a quite long cooldown or require certain circumstances to affect a target with stun. Surely one of the best CC in League of legends!
.............................
-Snare:
A snare is a stat effect that make an affected target unable to move for X seconds. Similar to stun but allow to attack, cast spells and summoner spells (except those that make the snared champion move). Really usefull to block a fleeing enemy or to allow you escape from an ambush of a jungler. It can be used in combination with skillshots for devastating combos (example: Lux ultimate, easy to land on a snared champion).
............................
-Blind:
A blinded target can do everything but all his auto attacks will miss, doing no damage. This is very nasty for AD carries, since they are based on auto attacks! This can last max for a couple of seconds.
...........................
-Knock air:
Knocking air an enemy will make him unable to do anything, except using summoner spells (flash and teleport won't work), while he is flying and will interrupt any spell the target was casting. Usefull to scare an enemy and focus with your team. Most of spells that knock air an enemy will apply also a slow.
............................
-Knock back:
You have a Knock back when a champion spell allow to throw the enemy in a direction. It can be used to throw an enemy into your team, allowing an easy kill but the problem is to reach the target and facing your team before knocking back the target. For that you need an help from a teammate that will stun or slow the target enemy, allowing you to reach and knock back him into your team path. In alternative you can try to flash over the target and knock him back into your team path.
Anyway certain Knock backs, or better known as ''Pulls'' will throw the enemy in the direction of the caster (ex.: Blitz's grab, Thresh's chains); Surely they work better in chasing an enemy since you have just to throw the skillshoot towards him.
...........................
-Fear:
An affected target by fear won't be able to make any action, while randomly running without any control with reduced movement speed.
Nothing to say, since it's quite similar to stun,except the higher range of those spells that fear the target.
..........................
Taunt:
Taunt make the affected enemy unable to perform any action, while auto attacking the caster without any control. Really usefull to save a focused ally or to block fleeing enemies, allowing you and your teammates to chase him down. The best spell with taunt is Galio's ulti that have AoE taunt on enemies whit a final damage based on how many attacks he have taken before the casting time end.
.........................
-Silence:
A silence is a stat effect that make unable the target to cast any spell, including summoner spells.
It's quite usefull to make a mage attack ineffective, making him vulnerable for some seconds.
.........................
-Polymorphe:
Lulu's "w" casted on enemy will transform him in an helpless animal, Silencing, making unable to attack and slowing the target for several seconds.
Usefull to block an enemy burst, as for kata ulti, or allow an easier kill.
.........................
-Charm:
One of Ahri's spells can charm a target, making him unable to move and/or attack, while moving toward Ahri without any control. Usefull to land Ahri spells and stop a fleeing opponent.
........................
-Entangle:
This stat effect is exclusive to Amumu's ultimate. People caught in the AoE won't be able to move and casting spells (flash and teleport will be disabled too), while still can auto attack, use items and summoner spells.
........................
-Suppress:
This is surely the strongest CC in League of Legends: indeed only 2-3 ultimates can deal this stat effect. Once you are suppressed, you most likely can't play for few seconds: You won't be able to move, attack, cast spell and use summoner spells. The unique way to get out of it quikly is by using a ''Quicksilver sash" or "Mercurial scimitar" that istantly remove all debuffs, including suppress.
=====================================
>HOW TO COUNTER
As i told in the ''Suppress'' paragraph, certain items can get you free of these nasty situations!
There are different items that can do this, but the most common are tenacity items.
Tenacity is a stat that reduce the duration of CC effects by a set %. As of today (24th July 2013), there are only items that bring 35% of tenacity and they can't stack. However tenacity items stack with tenacity from masteries and champion's abilities (ex.: Irelia's passive). But pay attention! Tenacity doesn't work with all the CCs: infact suppress, knock air and knock back aren't affected by tenacity.
In this case you can count on items like ''Quicksilver sash", "Mercuarial Scimitar" and "Michael Crucible" that can istantly set you free of some or all the debuffs affecting you; To not mention the summoner spell ''Cleanse" that has the same effect.
Pay attention here too, as not every item explained above work in every situation: Cleanse can't be used or doesn't work with Knock air, Knock back and suppress; While Michael Crucible doesn't work with Blind, Knock back, Knock air and suppress. In the end Quicksilver sash and Mercuarial Scimitar doesn't work with Knock back and Knock air but WORK with suppress!
---
---