Karma Guide

+ Add

Strategy Guide
Karma Guide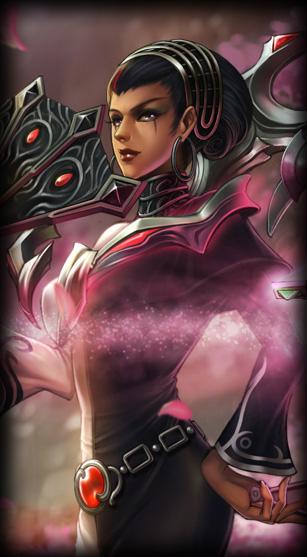 Hi guys,
I Have do this Karma guide for help you to choose which items, runes, masteries... are better for your favorite champion.
If anyone have a question or any request about this guide please post a comment on the bottom from this page, Thanks.
1.Introduction
Karma is an AP Support champion, This champion is not oft played because of his ''underpower''
She have a heal, a schield and a slow, his place in 5vs5 map is principally support bot or solo top (but rarely)
Some Tips
- Mantra CD has a rather long so it is advisable to stay half mostly in use and this to harass or heal.
- The Mantras are rarely used on the link, but they can also be to escape or catch an enemy of course.
- In Fight Team, boost your carry in ms to boost mobility.
- Keep your mantras to heal in a team fight.
2.Pros and Cons
Pros:
A good range on all spells.
Excellent AP ratios.
Has a good area to heal AND a shield.
CDs rather short.
Cons:
A cooldown a bit long on Mantra.
Lack of CC.
Underpowered sometimes...
3.Recommended Items
Mercury's Treads

+25 Magic Resist

UNIQUE Passive: Enhanced Movement 2
UNIQUE Passive: +35 Tenacity
Morello's Evil Tome

+75 Ability Power +12 Mana Regen per 5 seconds

UNIQUE Passive: +20% Cooldown Reduction

UNIQUE Active: Inflicts target enemy champion with

Grievous Wound, causing 50% reduced healing and

regeneration for 8 seconds (20 second cooldown).
Rabadon's Deathcap

+140 Ability Power

UNIQUE Passive: Increases Ability Power by 30%.
Shurelya's Reverie

+330 Health
+30 Health Regen per 5 seconds
+15 Mana Regen per 5 seconds

UNIQUE Passive: +15% Cooldown Reduction
UNIQUE Active: Nearby allied champions gain 40%

Movement Speed for 3 seconds (60 second cooldown).
Frozen Heart

+99 Armor
+500 Mana

UNIQUE Passive: +20% Cooldown Reduction
UNIQUE Aura: Reduces the Attack Speed of nearby

enemies by 20%.
Rod of Ages

+450 Health
+525 Mana
+60 Ability Power

Passive: Your champion gains 18 Health, 20 Mana, and 2 Ability

Power every minute (up to 10 times).
UNIQUE Passive: On leveling up, restores 250 Health and 200

Mana over 8 seconds.
Boots mercury or lucidity (depending on the number of cc in front).
The purchase of the oracle is done as soon as you can, either mode all in a row after the boots, or boots after row 2 more safe.
The Rabadon boost your spells
Frozen Heart you will tank, very good anti-physical item if ever the self-attack DPS are facing too many, a passive debuff more than enjoyable to protect your whole team.
4.Skill Order
5.Recommended Runes
Blues: armor to resist better.
Reds: armore to resist better.
Yellows: Gold or mana regen.
Quintessences: Gold.
These Runes are principally anticiped for play as Support / mage!
6.Summoner Spells
Flash
Quite simply indispensable Karma do not die on a gank or a team fight.
Clairvoyance
This is the supporter summoner spell in general, you will verify a point of the map when you need it. Ideal for a follow jungler, protect from a gank or for giving the vision in the bushes during a team fight.
7.Masteries
9 points in defense and armor with PV power for tanking a bit more. Then 21 points in conventional support utility mana, golds, CDR, XP.
8.Gameplay Video
Tips and Tricks
This video is a content from:WQLFY
If u like the sound like me xD at end from video is this song: ladybox- cookies fly 12th planet and flinch rmx
or youtube link: http://www.youtube.com/watch?v=YvKZ3zGnZsc
Gameplay Tips:
In lane you can be both offensive and defensive, use your mantra to good effect (on Heal (Q) or damage (E)). Your (W) will be used for either boost an ally or an enemy slow. In team fight there too much to calculate your mantras (prefer the heal).
For a support, prefer to go botlane with AD carry the baby sitter during the phase lane which means it does not take any creep, let farmer from beginning to end. Remember to always buy wards, try following the jungler opponent with your vision, follow the playing style of your carry on and adapt your accordingly, he is aggressive, so try to trap your enemies, then it is passive stay back and protect it. Remember also the purchase of an oracle if it actually needs, and items to be for the benefit of the team.
Also I hope that u like my guide, if yes don't forget to fan it
Exerath
---
---