Garen guide

+ Add

Strategy Guide
Garen guide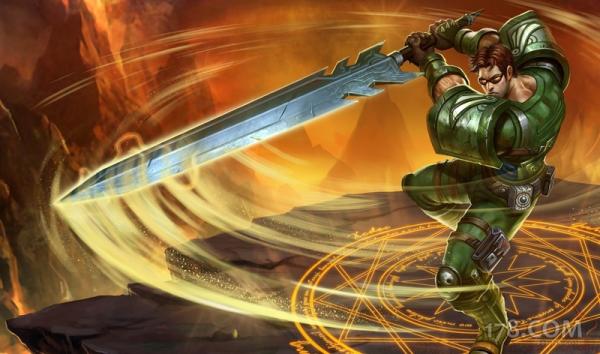 Hi guys,
I Have do this Garen guide for help you to choose which items, runes, masteries... are better for your favorite champion.
If anyone have a question or any request about this guide please post a comment on the bottom from this page, Thanks.
1.Introduction
Garen is a Off Tank (AD Tank) , he have a silence, a movement speed bonus and a little cleanse.
His roles are particulary Solo Top lane or bot lane in a 5vs5
2.Pros and cons
Pros:
Very high damage compared to another champions the first minuts of game
The longest ''silence'' for a lvl 1 ability
High defensive skill and nice passive
His ultimate deal a large ammount of damages if used vs high life ennemy
Cons:
Easy to kill at early game if focused and stunned
He sucks a lot at end game...
3.Recommended Items
| | |
| --- | --- |
| Boots of Swiftness | UNIQUE Passive: Enhanced Movement 3 |
Warmog's Armor

+920 Health
+30 Health Regen per 5 seconds

Passive: Minion kills permanently grant 3.5 Health and

.10 Health Regen per 5 seconds. Champion kills and assists

permanently grant 35 Health and 1 Health Regen per

5 seconds. Bonuses cap at +350 Health and +10 Health

Regen per 5 seconds.
Infinity Edge

+80 Attack Damage
+25% Critical Strike Chance

UNIQUE Passive: Your critical strikes now deal 250%

damage instead of 200%.
Youmuu's Ghostblade

+30 Attack Damage
+15% Critical Strike Chance

UNIQUE Passive: +15% Cooldown Reduction
UNIQUE Passive: +20 Armor Penetration
UNIQUE Active: You gain 20% Movement Speed and

50% Attack Speed for 4 seconds. Melee basic attacks

increase the duration by 2 seconds up to a maximum

duration of 8 seconds (60 second cooldown).
Atma\'s Impaler

+45 Armor

+18% Critical Strike Chance

UNIQUE Passive: Gain Attack Damage equal to 1.5%

of your maximum Health.
Force of Nature

+76 Magic Resist
+40 Health Regen per 5 seconds
+8% Movement Speed

UNIQUE Passive: Restores 0.35% of your maxmium Health

every second.
4.Skill Order
5.Recommended Runes
Armor penetration +15
Magic resistance +13
AD +6.8
Armor +13
6.Summoner Spells
8.Tips and Tricks
This video is a content from: Anthrax1551
Dont care about items and co. but on his gameplay
If the quality will give u eyes malady xD u can look this gameplay:
This video is a content from:Gdon1991
Also I hope that u like my guide, if yes don't forget to fan it
Exerath
---
---

2018.5.23chenlixiang
2018.5.23chenlixiang

chenyingying20180514
chenyingying20180514