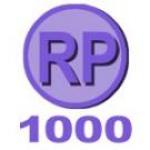 1000 Rohan Points
Price: $10.00
FanBucks: 1,000
Rohan Points or RPs are the currency used to make premium purchases in all Playrohan Portal games.
Although all games are free to play, each game offers exclusive services which can be purchased using RPs. This includes the Item Mall, Exchange Market, and additional services.
Rohan Points are good for the following titles: Rohan: Blood Feud, Seal Online, Hellgate, K.O.S.-Secret Operations.