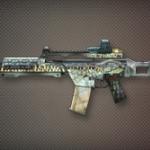 G36 Alligator | Capsule gun
G36 Alligator is a capsule gun that has a 1/200 chance of winning it.
It's a remake of the G36 Rail , which is another gun referring to this one.
G36 Alligator has exclusive upgrades such as an advanced recoil system , which now is made for bursting or tapping depending on the players preference.
My thoughts:
It's a nice solid gun , nice recoil, nice accuracy, nice damage.
The headshots is a key item for this item , make sure to aim for headshot range whenever you fire this beast off.
As well as that this gun is perfectly suitable for crouching.
My tips:
- ALWAYS stay behind a wall and listen to whenever somebody gets infront of you and you pop out and headshot him with the Alligator.
- Stay crouched if your doing long range , the gun might have a good recoil but should still be controlled at a fair range.
- NEVER NEVER rush with less than 15 ammo , this gun has a fast ROF and therefore makes it almost impossible to kill multiple persons with less than 15 ammo.
- Prefire corners , with this gun you'll be able to snapshot everybody.
- Make sure that you take advantage of your positions , peak small wholes whatsoever so get a better sight of the enemy with this gun.
Actual Specifications
Caliber : 5.56mm X 45
Weight : 3.6kg
Length : 758/998mm
Ammo : 30
Damage: 37
Range: 51
Accuracy: 74
Stability: 57
Mobility: 50
Rate of fire: 53
Pros and Cons:
+ A nice DPS.
+ Easily control able recoil.
+ Recoil does not increase when scoped in.
+ A good Jumpshot gun.
+ Fast Quick switch.
+ Fast Reload.
+ Good for Long range.
+ Suitable for close range
+ Good for medium range
- Not full sprayable.
- Makes lots of sound.
- Bad for wallbanging.
FACT:
Every 2nd A.V.A Player would prefer to have the G36 Alligator than their main gun.
Glorum's rating: 9/10
Comment: Nice and suitable for all players.
SukoSuLi's rating: 8/10
Comment: The gun is not perfect , it has a little recoil. The damage could be abit better as well.
RA1DER's rating: 9/10
Comment: Cheap and overpowered , yet good.
SureaI's rating: 10/10
Comment: Overpowered , no recoil at all.
UrbaNinjaa's rating: 7/10
Comment: It lacks damage , yet its a good gun.
The players above are all experienced and have tested this gun before.
Overall rating of the community: 8/10
Tips:
Currently the 2nd best gun in the game right now.
A definete good gun , go for this gun if you have gcoins and need a capsule gun.
Video of the actual gun in action ( Recoil Test ) - Chihakuryu:
http://www.youtube.com/watch?v=ZNq7KVGqr3o
Video of the actual gun in a FFA Game - opium123
http://www.youtube.com/watch?v=c7FQQJ65p7Q