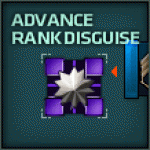 Item features
- Players can hide their actual rank from others when used.
- Players can choose a fake rank from Sergeant First Class 1 to Major 1.
Terms of use
- When using another Advance Rank Disguise item before your current Advance Rank Disguise item expires, the item duration will stack.
- Only players whose actual rank is sergeant 1st class or above can purchase this item.
Item usage
- Players can change their fake rank as many times as they want from 'Webpage > My Items' as long as it still has duration.
Notes
- This item can't be used in conjunction with a Rank Disguise item.
- The item duration will be decreased even during scheduled maintenance or other announced maintenances.
- Once the duration expires, the player's actual rank will be shown again.
- Players will be promoted and awarded as normal while their rank is camouflaged.