Gladiatus - Training

+ Add

Strategy Guide
Gladiatus - Training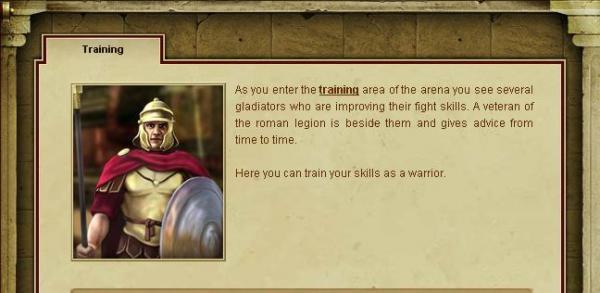 I can't express as to how much I enjoy this game. There's a handful of stuff in Gladiatus that a lot of people do not know, and I can aid anyone in need. As what you are about to see, I am about to make full use of this game, making guides in every section of this game, and If i have to, I will talk about every separate section in detail. And here, is the first of the sections. I do this randomly, but I actually select the section that I want to do the guide on, and then, I make my choice.
______
I want to talk about the training in Gladiatus for this guide. Training is like, your improvement. You need to improve in order to get better, and Training is like the same thing. If you Train over time, you'll get better results. There are six important attributes for your training in Gladiatus. The six attributes are Strength, Skill, Agility, Constitution, Charisma, and Intelligence. All six of these attributes, are very important for a Gladiator. For a Gladiator to be successful in winning many kinds of fights, these stats must be trained over time. They may be trained separately, evenly, spreaded out, or all at once. Be warned though, If even one of the key stats are not trained, a Gladiator cannot be successful. I shall talk about all 6 attributes, and how each is important to the Gladiator.
_____
Strength is a vital part in all Gladiators. Strength makes any Gladiator stronger, and more powerful. The more Strength a Gladiator has, the more Power that a Gladiator can produce. Strength is a very important factor in a fight. If a Gladiator has an insufficent amount of Strength, the opposing Gladiator can easily win the fight. In order to avoid this from happening, a Gladiator must train his Strength well. By doing so, you do not only increase the amount of damage made on the Opposing Gladiator, but also, your Gladiator has a greater chance of blocking the hits from the Opposing Gladiator. Strength Is the most important attribute, and it cannot be overlooked at. If you wish for your Gladiator to be successful, The Strength attribute must be done daily, if possible.
_____
Skill is also an important part of the Gladiator. A Gladiator's skill determines how well he/she can hit the opposing player. By improving your skill, you do two things. The first thing, is that you increase your chance for your Gladiator to not only hit your opponent, but also, you increase the chance of your Gladiator, to Critically hit your opponent. This Skill is the second most important part of a Gladiator's training. For if a Gladiator had a very mere, pathetic amount of skill, the Gladiator would have a very low chance of hitting the Opposing Gladiator. A lot of times, the Skill attribute is not taken into consideration. A Gladiator, can have all the strength in the game. But, without skill, that Gladiator is very useless in the field of battle. What is a Gladiator to do when he/she is unable to kill let alone hit his/her opponent? That means one thing, and that is to train harder. Without skill, a Gladiator cannot be successful. Improving your skill, is like the same thing in real life. If you don't improve on your fighting, you don't get better at it. For a Gladiator, by improving the skill, you will get better at it over time. This skill attribute should also be done daily.
_____
Agility is a great stat for any Gladiator to have. Back in the days of Rome, for any Gladiator to join a Legion, the army, etc, they had to have a lot of agility. Gladiators were not slow back then, for if they were, they would be flat out ducks. Fortunately, its not the case. As a Gladiator, by improving your agility, you improve your speed at the same time. What are you going to do with a poor lack of agility? The other Gladiator, can easily defeat you in the arena. But with a good amount of agility, any Gladiator can defeat their opponent. Agility, does two things, and it is the opposite of skill. Agility not only decreases the Opposing Gladiator's chance of hitting you, but it also decreases his/her chances of Critically hitting you. Agility, is like dodging. Its a test of how well, you can use your speed of reflexes, to avoid incoming targets. Examples are spears, swords, shields, armor, helmet, animals, etc. A poor amount of agility is going to make it for sure that you'll get hit every time. And that also means, you'll lose every fight in the arena. So, Agility is like a very important attribute to train. I would train agility every so often, but don't train agility every day. Sure, you do get to decreases the other Gladiator's chances of hitting you, but you don't want to do the agility train every day. You also need to make sure, that you have enough gold to train the other stats. If you just train agility, your not going to be a great Gladiator.
_____
Well, do you ever notice how the Legions of Rome conquered basically half of Europe, and parts of Africa and Asia? Its because of their Constitution. No Gladiator can survive long without having a good amount of Constitution. Without it, if a Gladiator had such a poor amount of it, they would die within days. The Constitution attribute, is like your heart. If you train your heart, you'll improve your health. Constitution, is the same thing. By improving your Constitution, you increase your maximum life points, and you increase the regeneration amount . Regeneration simply means that, by increasing Constitution, your Gladiator will be able to Regenerate more life points over an expanded period of time. For any Gladiator, the Constitution is an important stat. The Gladiator, is able to survive for longer periods of time, and when fighting in the arena, the Gladiator has an improved chance of winning the fight. It is actually true, that Gladiators with a great amount of Constitution win more fights. The benefits of Constitution, are that you stay fresh longer, you are able to take many hits, and so on. A Gladiator with a highly bad amount of Constitution, will most likely not win a duel. That's why, it is important, to train your constitution. Its like exercising your body. If you don't exercise daily, your not going to have good health. If you don't train your Constitution, you don't get an improvement in your health. So that's why, its important to do so.
_____
Charisma, is a somewhat of an important stat. Nevertheless, it is important for any Gladiator. There are two benefits, for having a good amount of Charisma in a Gladiator. The first benefit, is that if a Gladiator has a higher Charisma stat, that Gladiator increases their chance of getting a double hit on their opponent. Now what that means, is that an improved Charisma stat will possibly give you a double hit on your opponent in the field of battle. With that said, you could possibly get two hits in 1 round. That seems like a good deal, does it not? Well, its should be for any Gladiator. Who knows what might happen, if you just train your Charisma daily. With a great Strength stat, and a Great Charisma stat, you may be able to get a a double hit in several rounds, and that just gives you a better chance of defeating your opponent. Now the other benefit you get for training your Charisma, is that you increase your presence in the dungeon battles. If you ever looked at a dungeon, there would be prisoners. But that's just one type of dungeon. Another type of dungeon, could be dragons, orcs, opposing armies, etc. By increasing your presence, your Gladiator becomes more aware in the field of battle in a dungeon. So that's a key stat for Charisma, and I would train that at any time, if possible.
_____
The final attribute for any Gladiator, is Intelligence. Intelligence, makes your Gladiator smarter, and wiser at the same time. Now do you ever wonder how the Roman Gladiators defeated their opponents? It was because, they were intelligent. For them to conquer the half of Europe, they had to be smart, as you can imagine. For if they were not intelligent, they would lose a lot of battles, and the same thing can be said for a Gladiator. So, there are 3 good things you get, for training your Intelligence. The first thing, is that you increase your expedition opponent's learning chance. Now that simply means that your Opponent has a better learning chance. The second, is that there is an increase of healing in dungeon battles, and an increased chance of Critical healing. Now, if your Gladiator were to ever get injured or hurt in a dungeon battle, this stat simply increases the chance of healing, and critical healing. Just think for a moment. If you train Your Gladiator in intelligence, your Gladiator can actually heal better in the dungeon. Now that, is a great benefit to have. Now the third good thing you get, is that you increase your Gladiator's healing value through nutrition. That means that, through nutrition, your Gladiator increases his healing stat. Its a great thing to have actually, and if you have the time to train your Gladiator's intelligence, you should.
_____
That is basically it for the training of a Gladiator. These six stats are very important for any Gladiator to have. There are great benefits if you actually train two stats at the same time. If you train Skill and Agility, you increase your chance, and you decrease your opponents chance of hitting in the fight. If Skill and Charisma are trained at the same time, you increase your Gladiator's chance for an increased hit. And Combine Agility with Intelligence, and the Gladiator's health points are increased. There are many possibilities that you can do with your Gladiator's training, and there are many benefits to it as well. I certainly hope, that this guide very much helped you out in your Gladiator training, and good luck, in the arena.
---
---