FarmVillie crops info..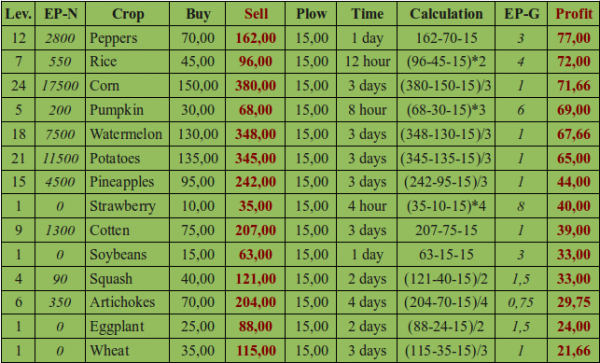 Before we begin, a couple tips to remember:
Farmville crops wither in the same amount of time it takes to harvest. In other words, if you plant strawberries, a four-hour crop, at 9AM, your strawberries will be ready at 1PM. They will die four hours later, at 5PM. Keep this in mind when planting crops -- if you're not going to be around your computer between 1PM and 5PM, don't plant strawberries! It won't be worth it.
This guide uses two formulas, but don't let that scare you away - they're easy!
Total profit calculation used in this guide is simple: The cost (including plowing) minus the sale price for the harvested crop = the profit. For example, Eggplants in Farmville will cost you $40 to plant AND plow the land. Eggplants sell for $88 when harvested, bringing your total profit to $48 per eggplant crop ($88-$40 = $48 profit).
Total experience calculation adds the experience earned planting the crop plus the experience earned plowing the land.
Let's begin!
2 Hour Farmville Crops
Raspberries: If you're looking to cash in, you and plan on sticking by the computer for a few hours, raspberries might be a good choice. Just be aware that you receive no experience points for planting the raspberries (you do receive 1+ plowing experience). Only go for the raspberries if you're bored, need the coins, and have nothing better to do. The 4-hour crops are simply a more option, both profit-wise, experience-wise, and time-management wise.
TOTAL PROFIT: $11
TOTAL EXPERIENCE (incl. plowing): 1 point
----------------------------------------------------------------
4 Hour Farmville Crops
Strawberries: If you're new to Farmville, this crop is your best choice. When you're just starting out and looking to level-up quickly, plant your entire field with strawberry crops. This will earn you both cash and experience points the fastest.
TOTAL PROFIT: $10
TOTAL EXPERIENCE (incl. plowing): 2 points
Blueberries: Once you reach level 17, blueberries A better quick-turnaround crop in Farmville.
TOTAL PROFIT: $26
TOTAL EXPERIENCE (incl. plowing): 2 points
Black Berries: When you're deeper into the game, the black berry crop is unlocked. However, it does not provide much in the way of coins. Use it as an option to give your farm some variety.
TOTAL PROFIT: $27
TOTAL EXPERIENCE (incl. plowing): 2 points
----------------------------------------------
6 Hour Farmville Crops:
Aloe Vera: Unlocked at level 14, Aloe Vera isn't the most lucrative crop, but it does look pretty!
TOTAL PROFIT: $20
TOTAL EXPERIENCE (incl. plowing): 2 points
---------------------------------------------------
8 Hour Farmville Crops
Pumpkins: Unlocked early in the game (Level 5), pumpkins are perfect to plant right before bed or right before you head to school or work for the day, as the crop will be ready for plucking when you get home.
TOTAL PROFIT: $23
TOTAL EXPERIENCE (incl. plowing): 2 points
Tomatoes: The higher in the game you get, the better options for more lucrative crops become available to your farm, and tomatoes are no exception! Available at Level 20, tomatoes have more than double the profit of pumpkins.
TOTAL PROFIT: $58
TOTAL EXPERIENCE (incl. plowing): 2 points
---------------------------------------------------------
12 Hour Farmville Crops
Rice: Unique in its water-based breeding grounds, the rice crop won't get you rich in Farmville, but with its 12-hour harvest time, it's the perfect choice to plant just before going to bed. Wake up and be ready to till up the land for more farm coins!
TOTAL PROFIT: $36
TOTAL EXPERIENCE (incl. plowing): 2 points
Carrots: Further into the game, at Level 22, the carrot crop unlocks. Profit-wise, this is a much better crop to plant before retiring for the night. It does not offer the visually pleasing, pond-like look of the rice crop.
TOTAL PROFIT: $75
TOTAL EXPERIENCE (incl. plowing): 2 points
----------------------------------------------------------
16 Hour Farmville Crops
Coffee: Unlocked at Level 23, right after the carrot crop, coffee offers another overnight option, with a little longer lead time. Profitable and timely (who DOESN'T love coffee in the morning?), coffee is a lucrative option for your Facebook Farmville land.
TOTAL PROFIT: $108
TOTAL EXPERIENCE (incl. plowing): 2 points
---------------------------------------------------------
1 Day Farmville Crops
Soybeans: When you're new to Facebook's Farmville, this is your only option for a one-day turnaround crop. It's a decent option at the beginning of the game, but as you proceed through the levels, Soybeans won't make you a ton of money.
TOTAL PROFIT: $33
TOTAL EXPERIENCE (incl. plowing): 3 points
Peppers: Plant some hot tamales and give your farm a little spicy sass (and extra cash!) Unlocked at level 12, peppers give you much more bang for your buck than soybeans.
TOTAL PROFIT: $77
TOTAL EXPERIENCE (incl. plowing): 3 points
Sunflowers: Not only do they look pretty, they earn you a pretty penny too! Giving you a whopping $165 a harvest, sunflowers are not only a great 1-day crop, but they're one of the most profitable crops available in Farmville (as of now).
TOTAL PROFIT: $165
TOTAL EXPERIENCE (incl. plowing): 3 points
-----------------------------------------------------------
2 Day Farmville Crops
Eggplants: Adding a little purple flair to your farm, eggplants are available at the start of the game. Earning only $48 for a two-day crop, the Eggplant isn't the most lucrative produce in the Facebook game, but when you're just starting out, you don't have much of a selection. Hang in here, it gets better!
TOTAL PROFIT: $48
TOTAL EXPERIENCE (incl. plowing): 3 points
Squash: Also adding a dash of color to your plantation, Squash will give you a little bit more bang for the buck at the beginning of the game.
TOTAL PROFIT: $66
TOTAL EXPERIENCE (incl. plowing): 3 points
Bell Peppers: Now we're talking! Available at Level 11, Bell Peppers are a much more profitable 2-day crop option. Yielding $108 per square harvested, Bell Peppers will get the money rollin' in!
TOTAL PROFIT: $108
TOTAL EXPERIENCE (incl. plowing): 3 points
Pineapples: A little more "fruitful" option, pineapples provide just a wee more dough than the bell peppers. Add this Facebook Farmville crop for a little variety on your farm.
TOTAL PROFIT: $132
TOTAL EXPERIENCE (incl. plowing): 3 points
Cabbage: Here we go! Doubling the Pineapple profits, Cabbage is a much better 2-day crop choice to get those coins rollin' in.
TOTAL PROFIT: $233
TOTAL EXPERIENCE (incl. plowing): 3 points
Broccoli: Whoa. There's a reason why this is the last crop available (as of press date). It's a cash cow/experience generator all in one! The only crop to give you 5 experience points (including plowing), as well as huge profit margins, broccoli is the way to go. The catch? It's available at *gulp* level 35.
TOTAL PROFIT: $258
TOTAL EXPERIENCE (incl. plowing): 5 points
-----------------------------------------------------------------
3-Day Farmville Crops
Wheat: Available at the start of the game, this is your only option for a long-term crop. It'll earn you some money, but if you're looking to level up quickly when you're starting out, strawberries are always the better option.
TOTAL PROFIT: $65
TOTAL EXPERIENCE (incl. plowing): 3 points
Cotton: Presented to you at level 9, this is a better alternative for a multi-day crop. However, when you're still in the lower levels & you're looking to rise through the ranks, it's still better to plant those blasted strawberries. Boring, I know.
TOTAL PROFIT: $117
TOTAL EXPERIENCE (incl. plowing): 3 points
Potatoes: The potatoes grow above ground, which is kind of strange. It's worth planting just to see it grow! Profit-wise, it's okay and a decent option for a long-term crop.
TOTAL PROFIT: $195
TOTAL EXPERIENCE (incl. plowing): 3 points
Corn: Growing high above the ground, this crop looks kind of cool. Profit-wise, it's not too shabby. Cool idea: Make a corn maze by planting your entire field with corn in a neat pattern, then use your Farmville camera to take a picture and share with friends!
TOTAL PROFIT: $215
TOTAL EXPERIENCE (incl. plowing): 3 points
Red Wheat: The most profitable of the 3-day crops, Red Wheat is not obtainable until level 30. However, it doesn't offer a lot of bang for your buck. There are better options that harvest in fewer days when you are at this level.
TOTAL PROFIT: $254
TOTAL EXPERIENCE (incl. plowing): 3 points
----------------------------------------------------------------
4-Day Farmville Crops
Artichokes: Taking a whopping 4 days to harvest, planting artichokes is a productive option if you won't have computer or Internet access for a few days. This crop will last a whopping 8 days from the time planted, so if you're jetting off to Maui, overtake your field with artichokes.
TOTAL PROFIT: $119
TOTAL EXPERIENCE (incl. plowing): 3 points
Watermelon: Unlocked at level 18, this is a better going-away-from-keyboard option than the artichokes.
TOTAL PROFIT: $203
TOTAL EXPERIENCE (incl. plowing): 3 points
Yellow Melon: The most economical 4-day crop. It isn't unlocked until you reach level 33.
TOTAL PROFIT: $308
TOTAL EXPERIENCE (incl. plowing): 3 points
---