Combat Arms

+ Add

Strategy Guide
Combat Arms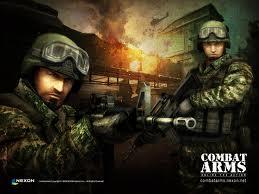 What? Combat Arms EU?
Combat Arms EU is a FPS (First Person Shotter), available from 16/12/2008 to Europe is striking for its realistic graphics and compact. The choice of weapons? Very varied and we can find any kind of guns, knives and axes, guns, etc. ... all customizable with various scopes, silencers and magazines.
Using various methods (= SMS, call from fixed, mobile phone call, credit cards, etc. ...) we can buy more powerful weapons and customize our profile and that of our clan (= raggiungengo a certain level) changing the color of the name and putting the coats of arms, even here the choice is very wide.
The clans also have their levels, increasing the level of our clan can have more members and the ability to unlock weapons.
The download is available for Windows XP, Vista and Windows 7.
The mode
Elimination:
The elimination is to kill enemies until you reach the score determined by the game, ranging from 30 to 140 killings: the first team to reach the objective wins.
Elimination Pro:
An elimination per round, can be composed of 5-7-9-11 Round, and the first team that reaches the preset number of rounds wins.
Search & Destroy:
Translated into Italian would be "Search and Destroy": there are always the usual two teams, one team has to foot the bomb and try to defend it, the other must defuse to win the round ... The first team that reaches the predetermined rounds wins.
Fireteam:
This would be Player vs. CPU mode that you are a team composed of a minimum of 4 persons for a maximum of 8, and there are 2 types of maps in Fireteam ... Desert Thunder, and Cabin Fever, the first mentioned with your team against the bandits, in the second six, always your way, but against the zombies. There are three difficulties: Normal, Hard, Extreme, and the higher the difficulty score for each kill more salt.
One Man Army:
A sort of all against all, then you'll be alone against all and your goal is to arrive at 15.30 or 45 Kill (= Kills) before the others and win.
Capture the Flag:
Translated in Italian "capture the flag", you will then capture the flag and defend your opponents: the first team to get to 3.5 or 7 points wins.
Spy Hunt:
In this mode you will find 5 packages placed in the map, players who take packages to the ground and become "spies", and a player must be able to conquer all the 5 packages to become "Super Spy" and when you become a super spy you succeed or kill all enemies or to make the goal that will appear in the map.
Quarantine Regen:
In this mode at the beginning of each round there are player who will become the Mother Zombie and will try to make all the other zombies Player. Obviously, the player must try to defend themselves and not get infected to earn points.
Last Man Standing:
A sort of One Man Army, but unlike after being Killato have to wait to play the next round: those who remain alive at the end of the round gets the points.
Bombing Run:
How the Search & Destroy, unlike all 2 team can foot the bomb, and if you killato reborn immediately without having to wait until the end of the round.
Maps:
Snow Valley
Gray Hammer
JunkFlea
Two Towers
Pump Jack
Brushwood
Cold Seed
Sand Hog
Warhead
Waverider
Rattlesnake
Death Room
Showdown
Power Surge
Overdose
Grave Digger
Roadkill
Short Fuse
Kill Creek
Vertigo
Dark Forest
Cabin Fever
Desert Thunder
Sector25
Dredge
GUNS
Beretta M92F
Beretta M92F SE
K5
G18
G23
G23 SE
M1911 MEU
USP
Desert Eagle
Black Anaconda
ASSAULT RIFLES
M16A3
M4A1
AK74U
K2
FAMAS
AK47
M14
AUG A1
G36E
M416
M417
L85A1
Tar-21
MK16 Scar-L
MK16 Scar-L Black
SG550
M6a2
M6a2 SRT
ACR Sandfire
MTar-21
Machine guns
K1A
K7
Mac-10
MP7A1
MP5A4
UMP
UMP45
Uzi
Vz. 61 Skorpion
P90
PP-19
L96A1
GUNS OF PRECISION
M24
M24 Woodland
SR25
SR25 sandfire
MSG90
PSG-1
Dragunov SVD
Dragunov SVDS
Barrett M107CQ
L115a2
L115A3
M110 SASS
M-200
DSR-1
Artic Wolf
Light machine guns
K3
M60
M249 Minimi
RPK
RPK 74U
MK-48
MK-48 MOD 0 CAMO
Shotguns
AA-12
M590 Military
M590 CQB
M3 SUPER 90
M4 SUPER 90
R870
Double Barrel
Saiga 20k
Spas-12
LAW Rocket Launcher
RPG-7
EXPLOSIVES
M67 (grenade)
M69 HE (High Explosive Grenade)
XM84 Flash (Flashbang)
M67 Frag Pack (2 grenades M67)
G7A Gas (nerve gas)
Incendiary M-23F (incendiary grenade)
M18 Smoke (smoke)
M16A1 AP (landmines)
Claymore (landmines)
Edged weapons and other tools [edit]
M9 (Military Knife)
Bowie Knife (Large military knife)
G.I. Shovel (Pala)
Kukri (Big Knife)
Tomahawk (Big double bladed knife)
Sickle (Sickle)
Machete
HearthBeat Sensor (radar that detects the position of the enemy through his heart beat).
Players are classified according to the military ranks, marked by some abbreviations, which increase based on experience:
Trainee (TRAINEE)
Recruit (RECRUIT)
Soldier (PVT)
Private First Class (PFC)
Corporal (CPL)
Sergeant (SGT)
Staff Sergeant (SSG)
Sergeant First Class (SFC)
Master Sergeant (MSG)
Commander of the sergeants major (CSM)
Second Lieutenant (2LT)
Lieutenant (1LT)
Captain (CPT)
Major (MAJ)
Lieutenant Colonel (LTC)
Colonel (COL)
Brigadier General (BG)
Moreover, only 100 players will hold the position of Major General (MG), only 10 will be Lieutenants-General (LGT), only 3 General (GEN) and only one can become a general of the (GOA).
PATCHES (or updates) are created and published by Nexon, and leave approximately every month.
Usually, the day of publication of a new patch, the game server becomes temporarily inaccessible.
Each update usually introduces:
New weapons and / or equipment (and Black Market Shop)
Fix some mistakes and gambling problems (bugs), including exploits used by hackers to use cheats and tricks in matches
New map / new game modes.
CURIOSITIES:
Inside the Black Market you can buy a feature called Elite Moderator that offers the possibility to do the flash kick a player in the game room.
Minimum Requirements:
Operating System: Windows 2000.
CPU: Pentium 3 - 1GHz +.
Ram: 256 mb.
Video Card: geforce 2MX.
DirectX: Version 9.0c.
Size on disk: 2GB.
I HOPE THERE IS HELP
---
---