Call of Duty Black Ops II- Perks, Killstreak and Wildcard

Call of Duty Black Ops II- Perks, Killstreak and Wildcard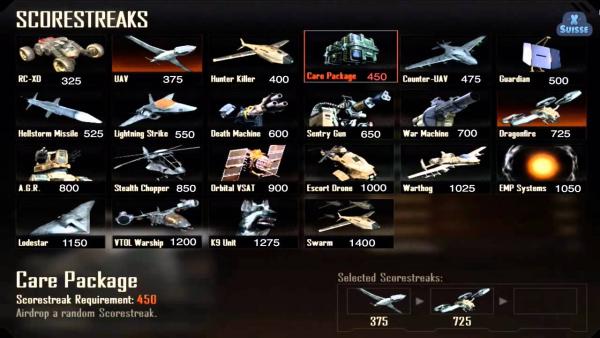 As in previous titles, CoD Black Ops II brings for the multiplayer the famous system introduced with CoD 4: Modern Warfare , that contain the Perks and Killstreak which are essential for the online gaming. But Black Ops II also bring a new feature, the Wildcard ; a feature needed after the implementing the characterization by point of a class.
By mixing up those 3 important skills , with the weapon and equipment the player is able to create an his own class, which also make the game more various, and to maximize his ability in certain things, by maybe loosing some other skills, in order to balance the game as possible ( but it doesn't happen often).
_____________________________________________________________________________________________
Perks
_
Thanks to the point system , the player is now able to select up to 6 perks , but will left you only with a weapon and no more things. Instead of the other previous titles, in Black Ops II the perks do not improve your weapon but improve your character skill , such as running faster , being able to recover ammo or being able to see enemy equipment .
_
The Perks are also divided into 3 slot-categories , and as said before you can equip up to 2 per slot-category by reaching the limit of 6. The Perks are :
_
Slot 1 Perks
_
Lightweight: Unlocked at Lv4 – You can ran slightly faster and no damage received from falling.
-
Hardline: Unlocked at Lv4 – You'll receive extra points per normal action, so you can obtain killstreak reward faster.
-
Blind Eye: Unlocked at Lv5 – You'll be invisible to AI controlled systems.
-
Flack Jacket: Unlocked at Lv32 – You'll receive less damage from explosions.
-
Ghost: Unlocked at Lv55 – You'll be invisible to enemy radar system until you keep moving.
-
-
Slot 2 Perks
-
Cold Blooded: Unlocked at Lv4 -You are immune/resistent to target system such as MMS, Dual Band and enemy air controlled killstreak .
-
Toughness: Unlocked at L 4 - You'll have less flinch when shot by an enemy
-
Fast Hands: Unlocked at Lv8 - You'll be able to swap faster from your primary to secondary weapon and viceversa. The equipment are launched way faster and reset the explosion time when throwing back an enemy grenade.
-
Hard Wired: Unlocked at Lv26 – Your are Immune to enemy EMP and Counter UAV .
-
Scavenger: Unlocked at Lv44 – You can restore some ammo, equipment and grenade from enemies not killed by explosion (included if killed by allied) by picking up abag that they'll drop
-
-
Slot 3 Perks
-
Dexterity: Unlocked at Lv4 – You can climb and overcome obstacle faster, you'll also aim faster after the sprint and knife attack recovering cycle is reduced.
-
Extreme Conditioning: Unlocked at Lv 4 – It allow you run twice the normal time
-
Engineer: Unlocked at Lv14 – You can see the enemy equipment by red, even behind walls. It also delay the explosion of equipment activated by you. You are able to trap an enemy Care Package and try your luck again in your called Care Packages .
-
Tactical Mask: Unlocked at Lv20 – Reduce the effect of Shock Charge and Flashbang .
-
Dead Silence: Unlocked at Lv38 – You are more silent when walking jumping and falling. Also the enemy will not hear any voice usually made by a character( like saying reloading, planting c4 etc).
-
Awareness: Unlocked at Lv50 – The enemy sounds are louder so you can localize them easily
_____________________________________________________________________________________________
Killstreak/ Scorestreak
_
This is always been the real heart of the multiplayer. The player will get rewarded by killing the opponent players by receiving powerful and useful rewards . But in Black Ops II thanks to the new system, the players now receive points, which means that even who doesn't kill players but just support the team , capture flags etc. will be able to access to these powerful weapons, indeed now it is used to call them Scorestreak, but the original name is still acceptable.
_
List or Scorestreak
_
UAV: 350 Points - It allow the player to localizate the enemy players by a red dots in the map. It works for 30 seconds .
-
RC-XD: 450 Points - A remote controlled car equipped with c4 , detonate near to an enemy or more in order to kill them. It will automatically detonate after a certain period of time.
-
Hunter Kill: 525 Points - You'll launch a drone that will automatically seek out an enemy player or vehicle in order to destroy it. It cannot avoid walls when projected to an enemy/ vehicle. It can destroy the enemy killstreak rewards such as Escort Drone and UAV .
-
Care Package: 450 Points - You'll have a signal grenade that if launched in a zone will be dropped there a Package that contain a random scorestreak reward . It can be hacked or stolen ( require more time to be acquired when stolen).
-
Counter UAV: 600 Points - It will disturb the enemy radar for 30 seconds .
-
Guardian: 650 Points - A turret that emit Microwave that reduce the enemy sight, movement speed and life.
-
Hellstorm Missile: 700 Points - A remote controlled Missile that can be launched to a group of enemies. It can also be activated to drop grape grenade in a certain area.
-
Lightning Strike: 750 Points - You'll be able to strike 3 zone of the map.
-
Sentry Gun: 800 Points - A turret equipped with a minigun. It will cover an area of 180° or it can be remote controlled by the player.
-
Death Machine: 850 Points - You'll receive a minigun to use, it can be used until you'll not finish the ammo(even if you die).
-
War Machine: 900 Points – You'll receive a grenade launcher with 6 grenade per magazine, it can be used until you'll not finish the ammo(even if you die).
-
Dragonfire: 975 Points - A remote controlled quadrotor equipped with 2 LMG . You can control it as you wish. It has a light armor so it's very vulnerable.
-
AGR: 1000 Points - A powerful armored drone equipped with rocket launchers and MG that works automatically, but it can be remote controlled.
-
Stealth Chopper: 1100 Points – An helicopter that will fly around the map in search of enemy players to eliminate. It cannot be seen in the map.
-
Orbital VSAT: 1200 Points – An upgraded version of the UAV that will keep showing the enemy in the map, by also showing their sight direction.
-
Escort Drone: 1250 Points – A flying drone that will follow the player by eliminating any enemy players in the nearby.
-
EMP System: 1300 Points -The enemy players radar ,electronic systems and hud (dot sight, turrets etc.) will be deactivated. The enemy players cannot call killstreak rewards .
-
Warthog: 1400 Points - A powerful plane will launch powerful rockets to any enemy players in his sight.
-
Lodestar: 1500 Points – You'll take control a satellite system that is equipped with rocketlauncher.
-
VTOL Warship: 1600 Points – You'll take control of a VTOL, a warplane equipped with minigun and rocket launcher.
-
K9 Unit: 1700 Points – You'll call a squad of trained dogs to help you. Them will snatch any enemy players and take them down.
-
Swarm: 1900 Points – You'll be able to call an huge amount of Hunter Kill that will destroy any players they find.
_____________________________________________________________________________________________
Wildcards
_
The Wildcards substitute some of the missing Perks in Black Ops II, that were used to be in the previous title. It allow the player to carry more equipment, perks etc.
_
List of Wildcards
_
Perk 1 Greed: Unlocked at Lv4 – You can use 1 more Perk 1
-
Perk 2 Greed: Unlocked at Lv10 - You can use 1 more Perk 2
-
Perk 3 Greed: Unlocked at Lv10 – You can use 1 more Perk 3
-
Overkill: Unlocked at Lv18 – You can carry another primary weapon instead of the secondary one.
-
Secondary Gunfighter: Unlocked at Lv19 - You are able to attach a 2nd item to your secondary weapon.
-
Primary Gunfighter: Unlocked at Lv22 - You are able to attach a 3rd item to your main weapon.
-
Tactician: Unlocked at Lv25 – You can carry another kind of tactical grenade instead of your lethal .
-
Danger Close: Unlocked at Lv28 – You can carry 1 more lethal grenade ( of the same type)
---
---