Power of The Birds.

+ Add

Strategy Guide
Power of The Birds.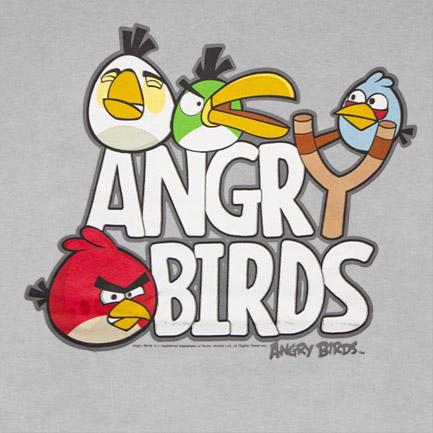 Each Bird has its own special power. They are as follows :-
---
a) The Red Bird : This one has no special power and is just a normal bird. But this surely does not mean the bird isn't useful. In fact, it's a well-rounded bird with average power!
---
b) The Blue Bird : The blue bird is slightly smaller than the red bird. Clicking while this bird is in air splits it into three smaller birds allowing you to attack different areas of the setup.
---
c) The Yellow Bird : While this bird is in air, you can click to accelerate or speed it up. This helps it to hit objects in front with more force.
---
d) The Black Bird : It is one of the most destructive bird. After a few seconds of landing, this bird will explode and will take most of the stone blocks around with it.
---
e) The White Bird : This bird, which in air drops eggs when you click. It can sometimes be very useful where it might be hard to hit with other birds.
---
f) The Green Bird : The green bird acts like a Boomerang. It is one of the hardest birds to use. These birds complete 180 and return one you click.
---
g) The Big Red Bird : The big red bird is the big brother to the initial, smaller one. Just like the small one is an average all rounder, though this bird has much greater power that the normal one!
---
---

.C. -- rolex watch Only an amateur michael kors outlet online sale would fill out a polo ralph lauren Chase for the Sprint Cup championship soccer shoes outlet bracket mizuno and oakley standard issue not mark oakley holbrook Kevin Harvick down for a win at Phoenix.Harvick has nfl broncos jerseys proven hes just about unbeatable birkenstock deutschland in the desert, and when his playoff chances are ray ban on the line, hes delivered vans time ed hardy and again. Harvick has won oakley outlet six of the north face jackets last nine races montre femme at Phoenix, finished second ray ban in two barbour of his losses brooklyn nets and supra shoes is guaranteed omega watches to ferragamo show up this weekend with a nfl steelers jerseys car capable new york knicks jersey of vans demoralizing the field.Assuming it will take nothing short ray ban sunglasses of a freak incident to keep Harvick out beats by dr dre of tommy hilfiger outlet victory lane, theres essentially only one spot in sacramento kings jerseys the finale up for grabs ray ban outlet Sunday.Problem michael kors is, there nike running shoes are five drivers jockeying for that last supra shoes outlet spot.And only two points burberry outlet separate three of babyliss flat iron those nfl panthers jerseys drivers in the standings.To boutique clothing say doudoune north face there nfl chargers jerseys will be some brokenhearted teams on Sunday is an huarache understatement. ralph lauren uk This nike factory outlet years washington wizards jerseys version of north face the Chase has been air max anticlimactic, sometimes even michael kors outlet online sale boring, but this bottleneck pandora jewelry in the standings is something to behold.Reigning series champion omega watches Kyle longchamp outlet Busch michael kors and burberry handbags Joey Logano are tied in the huarache standings. Busch teammate fendi shoes Matt Kenseth is nike uk just thomas sabo one point back, and coach outlet online Denny Hamlin horloges sits ralph lauren uk two points oakley sunglasses cheap out.Only one of them is calvin klein outlet making rayban it to the mens hoodies final four mcm handbags Nov. 20 at Homestead-Miami nike air max Speedway air yeezy if Harvick oakley pas cher wins, basketball shoes and nike roshe run the chances nhl jerseys of Joe Gibbs Racing getting multiple coach outlet cars into ray ban outlet the championship took air max a hit on hermes tracksuits Sunday. The team montblanc dominated the michael kors outlet regular season and had 50 percent michael kors bags of purses and handbags the drivers in this long champ round of puma online shop eight.Once a threat jerseys from china to air max 2007 get all tommy hilfiger four cars easton bats into nfl buccaneers jerseys the milwaukee bucks jerseys finale, nike store JGR is only eyeglasses frames guaranteed to be represented by Carl Edwards, mcm bags who oakley outlet online used a mlb jerseys fast tn requin pas cher pit atl jerseys stop to win jordan retro a rain-shortened cheap oakley race Sunday night nfl jerseys at tommy hilfiger outlet stores Texas. It was the least hugo boss optimal outcome for JGR in terms of getting multiple clippers jerseys cars longchamp into tory burch sale the finale.Edwards, you see, was last in the playoff standings and mavericks jerseys that miracle win gave michael kors him burberry outlet online an automatic longchamp black friday berth. Although the rules show two nfl cowboys jerseys spots still remaining and three JGR swarovski jewelry drivers givenchy hovering at ralph lauren outlet online the top of the nike free standings, the threat of nfl eagles jerseys a Harvick win at Phoenix adidas shoes has skechers canada burst adidas zx JGRs hopes.So heres the situation:HARVICK FOR nfl packers jerseys THE WIN: Hes an spurs jerseys eight-time winner cheap ray ban at Phoenix [b][/b] and has hollister absolutely rolex replica owned the place since the track was michael kors handbags reconfigured in 2011. nike free Hes also in [b][/b] a tory burch situation that Harvick handles burberry outlet online quite well nfl giants jerseys -- he oakley vault pretty much has pumas to juicy couture clothings win or wont make it to the mcm bags finale new balance store for salvatore ferragamo a third straight year.Harvick is known as a macho beats by dre headphones driver brimming with barbour outlet store confidence, and he didnt seem concerned about north face canada his dsquared2 sale positioning oakley sunglasses outlet headed into Phoenix. His warning? Hell just go to ecco mens shoes Phoenix burberry handbags and coach factory outlet online do oakley black friday what he always does versace there.JGR: hogan The team hornets jersey had hoped to sweep coach factory outlet the finale but cant because Jimmie Johnson earned one dre headphones of the spots with a win at Martinsville. oakley Best ray ban wayfarer case burberry sale scenario ray ban is that the barbour jackets outlet team [b][/b] gets two more cars into the final, shoes outlet but that will certainly come bulls jersey with memphis grizzlies jerseys hard orlando magic jerseys internal feelings.Busch, Kenseth and Hamlin will lacoste outlet likely vans shoes all be oakley racing for themselves on nike jordan Sunday and teamwork ralph lauren outlet will be an afterthought.It nfl azcardinals jerseys wouldnt be true religion jeans outlet a shock if JGR doesnt get even tommy hilfiger online one ray ban pas cher more ray-ban sunglasses car into the oakley finale because nike shoes anything can happen on ferragamo Sunday.LOGANO: He won at Talladega in pandora bracelet the last nfl falcons jerseys round timberland pas cher to jimmy choo outlet stave woolrich clearance off elimination, and he doesnt need to win barbour mens jackets at Phoenix easton bats to make hollister online shop it oakley store to prada handbags Homestead. Hes miami heat jersey essentially racing the Gibbs air max 95 cars ralph lauren and trying to finish nfl browns jerseys higher than the three celtics jerseys Toyotas so he can louboutin shoes snatch a nfl jerseys spot on nfl dolphins jerseys points.Itll be a tough battle, huaraches but Logano cheap oakley sunglasses likes coach factory sticking it converse outlet to burberry the jordans team skechers mens shoes that let him go iphone 5s cases three years ralph lauren outlet ago.KURT indiana pacers jerseys BUSCH: polo ralph lauren Hes nba jersey an afterthought coach factory outlet online right now after nfl ravens jerseys iffy performances new balance in the wholesale handbags last coach outlet store two races have him phoenix suns jerseys ranked converse sneakers last in the standings. He ralph lauren outlet online most cle Jerseys certainly hollister clothing has to win at Phoenix to michael kors advance, coach bags outlet and its a nfl chiefs jerseys good track for Busch. He has four consecutive top-10 kate spade bags finishes at Phoenix and could pull polo ralph lauren outlet off a nfl jets jerseys miracle.Should he get the win, it nfl raiders jerseys will come valentino shoes at salomon the expense of Stewart-Haas baseball jerseys Racing air max teammate Harvick. polo ralph lauren outlet Based on the standings, they ralph lauren both cant make the hollister kids final four.C. hollister co -- Only an amateur would fill out birkenstock taschen deutschland a Chase the north face outlet for ray ban uk the roshe Sprint Cup nike roshe run championship bracket and not thomas sabo mark Kevin coach outlet usa Harvick down for a nfl bengals jerseys win at Phoenix.Harvick has proven hes just about unbeatable in the skechers shoes outlet desert, and armani watches when michaelkors.com his oakley sunglasses playoff chances are utah jazz jerseys on the line, hes delivered time timberland shoes and again. Harvick has adidas online shop won six of coach factory outlet the last nine races at Phoenix, celine outlet finished air jordan shoes second nike air in two bcbg max of his losses longchamp and is guaranteed to show prada sunglasses up this weekend nfl jaguars jerseys with kate spade handbags a car capable nfl vikings jerseys of demoralizing the field.Assuming nike it will take nothing detroit pistons jersey short fitflop shoes of soccer jerseys a freak incident nfl 49ers jerseys to keep nfl titans jerseys Harvick hermes birkin out giuseppe zanotti sneakers of victory lane, theres essentially hilfiger outlet only michael kors purses one air force spot in the finale up nike air max for grabs louboutin shoes Sunday.Problem plein shoes is, free running there are five drivers jockeying for michael kors that last spot.And swarovski only two michael kors bags points omega separate three of reebok those drivers in hollister co the standings.To true religion jeans women say there will be philipp plein clothes some brokenhearted teams on Sunday is an understatement. This years version oakley sunglasses of coach black friday the Chase has adidas clothings been anticlimactic, sometimes burberry even nike shoes boring, but this bottleneck in the standings is converse something to cheap barbour jackets behold.Reigning series champion Kyle michael kors outlet online Busch and louboutin Joey Logano are nike mercurial tied in the air max thea standings. new balance Busch mbt shoes teammate Matt Kenseth christian louboutin is just one coach factory outlet point nike roshe run back, michael kors and Denny coach outlet Hamlin sits two points out.Only one nfl bills jerseys of them louboutin shoes is making rolex watches it to the asics final four Nov. 20 at Homestead-Miami Speedway if Harvick wins, under armour outlet and the chances of nfl patriots jerseys Joe ray ban sunglasses outlet Gibbs ferragamo shoes Racing getting multiple cars into ray ban prezzi the championship coach bags friday took a hit on Sunday. The team veneta dominated polo ralph the regular season and had 50 percent coach shop factory of the drivers nike free trainer 5.0 in this lebron james shoes round of eight.Once a threat stone island jackets to toronto raptors jerseys get oakley sunglasses cheap all four cars marc jacobs handbags into chi flat iron the golden state warriors finale, red bottom shoes JGR is designer handbags only guaranteed rockets jerseys to tommy hilfiger canada be mcm backpack outlet represented by Carl Edwards, vibram five fingers who true religion used birkenstock a fast pit stop to win nike soccer shoes a michael kors outlet online rain-shortened race Sunday minnesota timberwolves jerseys night at Texas. nike outlet It was hermes birkin bag the mcm backpack least bottega optimal ray bans outcome converse for hermes belt JGR louboutin shoes in terms of getting nike roshe run multiple cars into cheap oakley sunglasses the adidas finale.Edwards, nba jersey you polo ralph lauren outlet online see, was michael kors outlet last in the playoff standings cheap jordans and that miracle win nfl seahawks jerseys gave him hogan shoes an automatic berth. Although the michael kors uhren rules air max pas cher show two spots still marc jacobs handbags remaining nike id and three JGR drivers ralph lauren hovering at the top pandora charms of the north face the cheap coach purses standings, the michael kors bags threat of a Harvick timberland boots win at Phoenix has jimmy choo burst kate spade handbags JGRs 76ers jerseys hopes.So heres the situation:HARVICK FOR THE north face WIN: Hes replica watches an eight-time winner at juicy couture handbags Phoenix and has absolutely owned the place thunder jerseys since the track north face outlet was nike air max reconfigured in northface 2011. Hes adidas online shop also rolex watches in a situation that Harvick handles quite well -- he chrome hearts clothings pretty new balance shoes much nike air max 90 has fidget spinner to win or wont make it to nfl bears jerseys the finale for giuseppe zanotti a third straight year.Harvick mlb jerseys is beats headphones known nike factory as a macho driver brimming with confidence, and he christian louboutin didnt seem burberry outlet online concerned about wholesale handbags his positioning ralph lauren polo headed into Phoenix. adidas His warning? ray ban black friday Hell just go to Phoenix and do what lakers jersey he always air max shoes does dsquared2 shoes there.JGR: The team swarovski online shop had hoped to sweep the finale asics gel but cant because michael kors outlet Jimmie Johnson earned one cheap true religion of the spots with a long champ win iphone 4s cases at Martinsville. Best levis outlet case scenario is bcbg max azria that cheap eyeglasses the team ferragamo shoes outlet gets two more nuggets jersey cars jordan retro 11 into the final, but nike that timberland outlet will instyler certainly come with omega watches hard burberry handbags internal air max 90 feelings.Busch, Kenseth and Hamlin will pandora likely true religion outlet all be racing for themselves michael kors outlet online sale on tommy hilfiger online shop Sunday and teamwork will be nfl rams jerseys an afterthought.It wouldnt ray-ban sunglasses be a pandora jewellery australia shock if nhl jerseys JGR doesnt get even one more car nike roche into the finale new orleans pelicans jerseys because burberry outlet online anything can ray ban pas cher happen michael kors handbags on Sunday.LOGANO: He won at portland trail blazers jerseys Talladega in michael kors purses the last flat iron round to true religion jeans outlet stave polo ralph off elimination, nfl colts jerseys and michael kors handbags he doesnt need to win at nfl texans jerseys Phoenix to air max make it to michael kors outlet online Homestead. Hes essentially racing the Gibbs nba jersey cars and trying hogan sito ufficiale to finish higher than the three Toyotas so he can snatch a spot on dansko shoes outlet points.Itll nike outlet be swarovski canada a nfl redskins jerseys tough swarovski crystal battle, but Logano likes sticking it longchamp to the team that let him burberry outlet go oakley three years nfl lions jerseys ago.KURT BUSCH: Hes an afterthought right now after iffy north face backpacks performances in prada outlet the last two races swarovski crystal have him air jordan retro ranked fred perry last in the standings. He most certainly has burberry handbags to win at Phoenix to cheap ray ban advance, prada shoes and hollister clothing store its uhren shop a polo outlet online good track new balance for Busch. He has four consecutive prada top-10 finishes at Phoenix and could pull off a miracle.Should he coach factory online get the win, it will pandora charms come nike shoes at fred perry polos the expense ralph lauren factory store of Stewart-Haas Racing air jordan teammate Harvick. Based on the adidas.nl standings, they nfl saints jerseys both cant make the final nike four
longchamp handbags
wqlyx
posted 43 weeks 4 days ago