Walther P38

Walther P38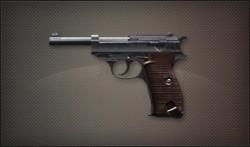 The Walther is a capsule weapon and it is only obtainable winning it in the capsule shop or just boxing it for 7 days in survival (10box= 1day, 11box= 3days, 12box=7days). This pistol definetely posses's the highest DPS for a pistol. With 60 damage and 35 RoF it is clearly a beast if your foe is close to you. Because... This gun's damage drops fast due low range (5). Further than 10 meter this is a waterpistol.
It comes with a 7 ammo clip. This gun is very good for snipers. Tagged? Some quick shots with walther will do it because of fast swap. Enemy to close? Walther beats them all.
Pros:
-Damage (60)
-RoF together with damage (35)
-Obtainable with boxing
-Fast swap
-Good stability
Cons:
-Range (5)
-Ammo (7)
-Only Capsule (or boxing)
Overall: This pistol is great if you know how to use it.
---
---