TPG-1 Review

+ Add

Tip & Cheat
TPG-1 Review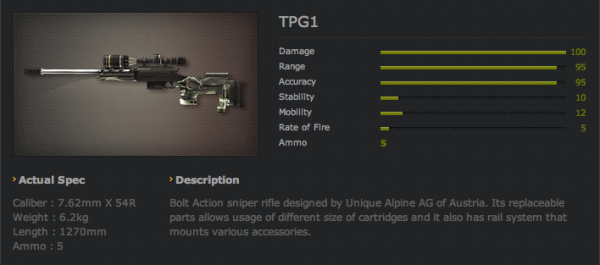 Hello, Samuelrock00 here and I will be making a review guide about the TPG-1 which is a common used sniper. If you do like it please fan it up and check out my other guides!
Weapon Stats:
Damage- The damage is 100 which means its tag rate is low.
Range- The range is 95 which means it can go scope farther than other snipers.
Accuracy- The accuracy is 95 which is good to strike enemies down.
Stability- The stability is 10 which is pretty decent.
Mobility- The mobility is 12 which is pretty decent.
Rate of fire- The rate of fire is 5 which is kind of decent.
Mods:
I would recommend the basic scope is already has or if your preference for more range get the High powered scope. Also you need the damage barrel which gives you +10 and the barrel is called .338.
Description:
TPG-1 a bolt action sniper rifle which is designed by the Alphine AG of Austria. TPG-1 a powerful version 1 of the PGM.338. TPG-1 has good pros, but we will be talking about that later but anyways TPG-1 does not tag alot which is a great pro for sniping but the downer is slow cocking. TPG-1 is used a lot and is not a new gun, but a very powerful gun and very cheap (48,000Euros). The TPG-1 can also jump shot which is needed in some situations. TPG-1 is a very nice gun to start with and I would recommend it to all new beginner's in sniping.
Pros and Cons:
Pros:
1. Damage
2. Range
3. Mobility
4. Accuracy
5. Stability
Cons:
1. Rate of fire
2. Ammo
3. Weight
Here is a video for you guys about the TPG-1:
If you really like this guide support me by watching this video and sharing,subscribing,liking,favoriting:
Good day to you all and thank you for your time.
~ Samuelrock00
---
---