Tar21 Tiamat Review

+ Add

Strategy Guide
Tar21 Tiamat Review
TAR21 Tiamat Review
Overview:
The Tiamat is a powerful gun with good DPS, low recoil, and great accuracy. It doesn't have very much spread so it allows you to get easy headshots. Even if you don't get headshots, it can kill enemies quickly even if you're aiming for the chest. It can easily out gun some pointman guns and many rifles. Its skin is also one of the nicest looking one for a euro capsule weapon. The low recoil and good accuracy allows you to efficiently strafe while shooting and take down multiple opponents.
How Is It Obtained?
The Tiamat is a EURO capsule weapon and can be bought for 3,000 euro per capsule, or 1,500 euro and 50 BP per capsule. It can be bought from both individual and /200 capsules.
Damage:
The overall damage for the Tiamat is above average/around average. While aiming for the chest at ~10m it only takes about 4-5 bullets to kill. Headshots are almost always a kill even if they have a helmet on. Combined with the good ROF you can take down enemies extremely quickly. The bullets also seem to penetrate through Iyan easily.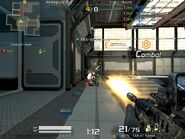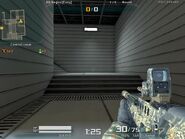 Range:
The range on the Tiamat is slightly above average, stat wise, however, ingame it seems to be even higher. You can easily kill enemies with rifles at around 35-40m with no problem. Against snipers, aim towards the upperbody because of the slight recoil and either quickly tap or burst. With the small crosshairs, it shouldn't be much of a problem.
Accuracy:
The Tiamat has good accuracy which gives it small crosshairs and low spread. This helps immensely at long ranges allowing easy headshots. However, the scope isn't very useful because of the recoil and I would recommend only using the normal crosshairs.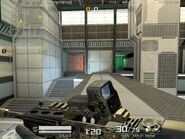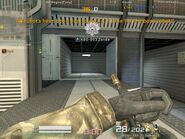 Conclusion:
Overall, the Tiamat has above average stats and its low recoil, and low spread makes it an easy weapon to be used by players of any level of experience. It's cool design and unique features make it a great gun to have. Because of its great DPS and ROF along with its accuracy, I would rate it an 8.5/10. I would strongly recommend it for anyone who loves easy to use but powerful guns.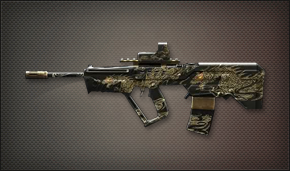 Thanks for reading my review on the Tar21 Tiamat! If you enjoyed don't forget to fan it! Give me more suggestions down below in the comment section! Thanks again!
-CNTN
---
---