TAR-21 TIAMAT REVIEW

+ Add

Tip & Cheat
TAR-21 TIAMAT REVIEW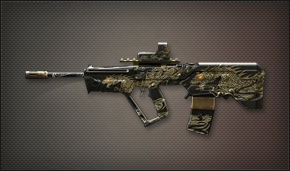 TAR-21 Tiamat Review
Red Duck Description:
Bull pup assault rifle by IMI of Israel. Also known as 'TAVOR'. It includes advanced red-dot reflex sight and can be mounted with different scopes. TAVOR's ergonomics design is known for its practicality and stability.
Overview:
The Tiamat is a powerful capsule weapon obtainable with euro weapons. It is a rifleman weapon that has average damage but good range, accuracy, and stability making it easy to be used by any level of experience player.
How to get the Tar-21 Tiamat:
The Tiamat is obtainable through the Capsule shop. It is the upgraded version of the TAR-21 and each capsule costs 3,000 Euros or 1,500 Euros and 50 BP.
Tar-21 Tiamat Advantages:
The main advantages of the Tiamat are its great accuracy and stability. Although it has average damage, its accuracy allows you to kill people from far distances and allows easy headshots. There is little bloom even when you burst quickly. The stability allows the gun to be used by even the earliest beginners and is easy to control, but a bit difficult over 40m. The ROF is also a good factor, at 60 ROF, it can outgun many rifleman weapons excluding the FAMAS at close ranges.
Tar-21 Tiamat Disadvantages:
The main disadvantage of the Tiamat is its range and damage. Although it has great accuracy, the low range takes multiple shots to kill from far distances. The damage is also somewhat mediocre making it hard to kill with a low amount of ammo.
Tar-21 Tiamat Stats:
Damage: 35
Range: 52
Accuracy: 60
Stability: 60
Mobility: 52
ROF (Rate of Fire): 60
Ammo: 30



Conclusion:
The Tiamat is a great gun that is hard to obtain but is easy to use. It can be used by a variety of players and is good for all types of gameplay. Overall, I would rate it a 9/10 and would recommend it to any player who can get their hands on it.
If you enjoyed this gun don't forget to fan it and give me more ideas/suggestions for other guides.
-CNTN
---
---