OTS-14 GROZA REVIEW

+ Add

Strategy Guide
OTS-14 GROZA REVIEW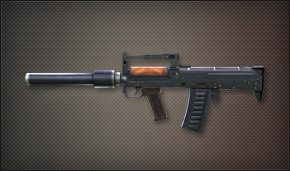 OTS-14 Groza Review
Red Duck Description:
Russia's special-purpose rifle that uses 9mm X 39 subsonic rounds. Its developed with the use of a silencer in mind, and, due to their heavy weight, bullets lose less kinetic energy as they travel.
Overview:
The Groza is one of the few assault rifles with a silencer attached on it already so it has little to no sound when it is shot. It doesn't have much recoil or bloom so it is perfect for headshots. Although it only has 20 ammo, it still is a powerful gun with many advantages.
How to get the Groza:
The Groza is available in the shop at a low level, but is expensive, costing 52k Euros, the second most expensive gun after the PGM. It is available at rank Staff Sergeant 3.
Groza Advantages:
The Groza is extremely accurate because of its small crosshairs and does not bloom a lot. This allows easy aim and easy headshots if you aim well. Because of its silencer, like the RX4 Storm, it allows you to stay off the radar, which is extremely useful when you flank or rush. It also has high stability and ROF making it easy to use for beginners as well as professionals. Although it seems like it has low damage compared to the Para and Kel-Tec, with the reinforced barrel, the bullets seem to tear through enemies killing them quickly. Although the reinforced barrel supposedly takes away 1 ROF and 1 stability, you can barely notice the difference.
Groza Disadvantages:
The main disadvantages of the Groza are the lack of ammo and short range compared to guns similar to it like the RX4 Storm. The lack of ammo makes it sometimes difficult to kill multiple (3-4) enemies at a time unless you have multiple headshots. To a beginner it can be frustrating if you miss a lot a run out of ammo often. The range is somewhat average compared to other rifleman guns but is kind of low compared to long distance guns with no recoil like the Alligator or Ak Bis. What I would recommend it to either get in mid distance, or crouch behind/next to something for cover and burst towards the chest/head.
Mods:
-Burst Barrel (BB) - +2 ROF, -1 Accuracy
-Long Range Barrel (LRB) - +2 Range, -1 Stability
-Reinforced Barrel (RB) - +3 Damage, -1 Stability, -1 ROF [Recommended Mod]
Groza Stats:
Damage: 35
Range: 47
Accuracy: 76
Stability: 55
Mobility: 55
ROF (Rate of Fire): 65
Ammo: 20/40
Conclusion:
The Groza is a great, easy to use gun for both beginners and professionals. Although it has low ammo, it makes up for it with its good stability, accuracy, mobility, and ROF. Overall, I would rate this gun as 8.5/10 and would recommend it for anyone looking for an accurate gun.
If you enjoyed this gun don't forget to fan it and give me more ideas/suggestions for other guides.
-CNTN
DONT EVEN KNOW WHY IM POSTING THIS
IT WAS SUPPOSE TO LOOK NICER BUT I GAVE UP
---
---