The Fastest Way to Farm EXP (Prison Break Rescue)

+ Add

Tip & Cheat
The Fastest Way to Farm EXP (Prison Break Rescue)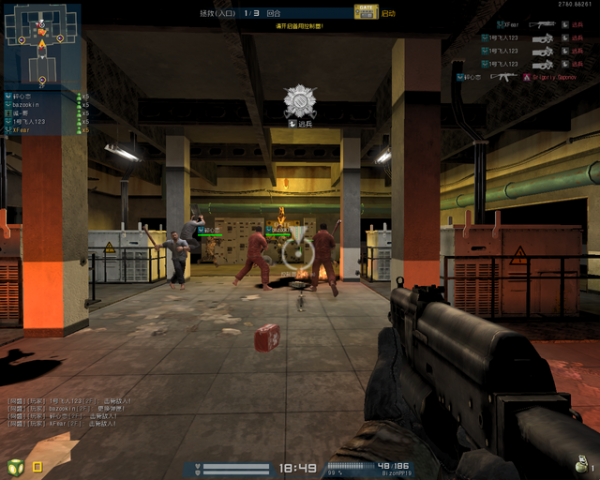 ***NOTE: THIS IS NOT A GLITCH. THIS IS NOT A BUG. THIS IS COMPLETELY LEGIT AND STILL WORKS***
.
Prison Break Rescue EXP Farm
.
Here is my first guide to farming EXP in Death Valley: http://fanup.com/alliance-valiant-arms-ava/guide/fastest-way-farm-exp-de...
.
Briefing: This is my second guide to EXP farming (even though technically, this isn't a farm, it's just a way to get EXP unusually fast). I personally believe that Death Valley farming is less boring, but they both give out about the same amount of EXP per hour. Each time you do this you will receive 1000 EXP. Each time you do it will take 15-20 minutes, depending on your skill. Just like the other farm, you will be doing this by yourself in a Co-Op Room. Don't worry though, this will be as simple and easy as farming Death Valley. I will explain this to you step-by-step so you can do it on your first try when you play. There will be three parts to this guide: Joining the Game, Hallways, and Farming.
.
.
.
Materials Needed:
Any gun
(Even though a high ammo capacity gun is not required for this farm, a high ammo capacity gun like the Bizon PP-19 (64 ammo) is recommended.
***The Bizon PP-19 can be purchased expendable in the Euro shop for only 3000 Euros.***
.
.
.
Part One: Joining the Game - As simple as it gets.
.
1. Enter Co-Op Channel 1
2. Click "Create Room"
3. Select "Prison Break Rescue"
4. Change the number of players to one
5. Create the room and press "Start"
.
.
.
Part Two: Hallways- You will need to pass through a long hallway before you can proceed to the main farming place. It should take only 2-3 minutes to do so.
.
1.Sprint to the first door and open it. DO NOT kill any fugitives unless they start attacking you.
2. Sprint to the next door and open it. DO NOT kill any fugitives unless they start attacking you.
3. Repeat Step 2 until you reach the stairs.
4. Go up the stairs and you should see another door. Inside this door is your main farming place.
.
.
.
Part Three: Farming - This is the part that gives you most of your EXP
.
1. By now, you should be outside the door in the second level. Open the door and there should be some fugitives. Kill them.
2. Go forward to the little passageway between the hallway after you enter through the door and the room with the controller.
3. Kill fugitives as they come near you. Just camp there for 15-20 minutes and kill as many fugitives as you can. Collect ammo and health if needed.
4. Press Tab occasionally to see your score. Once your score has reached 999 or if the 20 minute timer ends, commit suicide. You can't receive more than 999 EXP.
.
***Congratulations, you have completed the farm! You should have received 999 EXP (one for every fugitive you kill) and it should have taken no more than 20 minutes from starting the game to finishing the game. Now repeat as many times as you want. Good luck!***
.
This method gives you about 3000 EXP per hour. For more information about EXP points and how much EXP is required for each level, click here: http://avaijji.wikia.com/wiki/Ranks
.
If you have any questions regarding this, feel free to comment below.
.
Thanks for reading!
---
---