Colt Python-Review

Colt Python-Review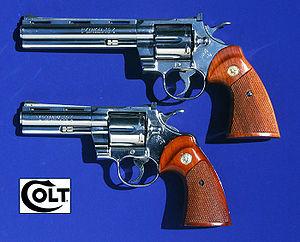 hi guys,
i doing this article to explain u why this pistol is the best pistol in AVA,
frist i would like to description..
Description
The Colt Python is a double action handgun chambered for the .357 Magnum cartridge, built on Colt's large I-frame. Pythons have a reputation for accuracy, smooth trigger pull, and a tight cylinder lock-up.
secondly let's talk about his history of colt python.
History
The Colt Python is a .357 Magnum caliber revolver formerly manufactured by Colt's Manufacturing Company of Hartford, he Produced 1955–1996.
thirdly Let's talk about what's so special about this revolver.
Specifications
Manufacturer Colt's Manufacturing Company.
Produced 1955–1996.
Weight 38 ounces (1.1 kg) to 48 ounces (1.4 kg).
Cartridge 357 Magnum.
Action Double-action.
Feed system Six-round cylinder.
Sights Rear adj - front ramp.
i hope i success to explain why i think this the best pistol in game
if u like it fan it ..
---
---