Capsule Shop Tips!

+ Add

Tip & Cheat
Capsule Shop Tips!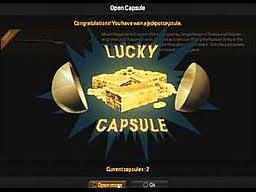 1)Capsule Shop details
To buy a capsules, press the capsule machine, then choose the amount of capsules you want to buy.
*
-Capsule machines containing 200 capsules Gives you a higher chance of winning a rare waepond. Machines containing 499 capsules Give you a lower chance but are cheaper.
machine with: 200 - 20 G Coin for 1, 100 G Coin for 5, 200 G Coin for 10
machine with: 499 - 10 G Coin for 1, 50 G Coin for 5, 100 G Coin for 10
*
2) To purchase capsules, click on the 'Buy 1', 'Buy 5', or 'Buy 10' button.
*
3) Opening a capsule
Once a capsule has been purchased, you can open it by clicking on the 'Open Capsule' button that appears beneath the 'Buy 5' button.
- Notes! - The Rare Weapon is always Unlimited, all other items have a 1 day duration. Item durations do stack. For example: if you get 5 grenades at 1 day, you will have the grenade for 5 days.
- The weapon pictured on top of the machine represents the rare item in this machine.
- We will be updating the capsule with new rare weapons periodically.
- Each time a purchase is made, the # of capsules left in the machine decreases, which increases your odds of winning!
---
---


Most content is from own experience.