Bonsly's mp7a1 GUIDE

+ Add

Strategy Guide
Bonsly's mp7a1 GUIDE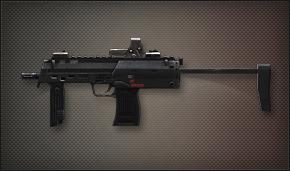 Bonsly's mp7a1 GUIDE.
The MP7 is a German Personal Defence Weapon (PDW) manufactured by Heckler & Koch (H&K) and chambered for the HK 4.6×30mm cartridge. It was designed with the new cartridge to meet NATO requirements published in 1989, as these requirements call for a personal defense weapon (PDW) class firearm, with a greater ability to defeat body armor than current weapons limited to conventional pistol cartridges. The MP7 went into production in 2001. It is a direct rival to the FN P90, also developed in response to NATO's requirement. The weapon has been revised since its introduction and the current production version is the MP7A1 (source : Wikipedia)
The mp7a1 is one of the most used point man guns in the game.
This is thanks to its fast rate of fire, mobility and damage per second. (dps)
The pros and cons of this gun:
Pros
Very high rate of fire
Fast reload
Silence-able
Big magazine (40 bullets)
Low recoil
Mods suitable for multiple gaming styles.
High dps
Euro gun (permanently)
Multi target weapon
Cons
Low damage
Low range
Mods can be costly since euro's are scarce in game.
Recommended mods:
Most frequently used mods are rate of fire based:
Rate of fire barrel & mechanism trigger for maximum rate of fire.
(on preference: laser dot 2 + dot sight + ergo grip for aiming down sight on medium ranges)
Silencer mod:
Advanced silencer(nullifies silencer range penalty) ,ergo grip and mechanism trigger.
(use this combined with the auto silence perk)
Tips:
Get as close as possible to your target, your dps will almost always outclass your enemy.
Beware that even though it may look that you got plently of bullets left in your mag, you should always reload if your left with +/- 15 bullets (when fighting multiple targets or ranges above the 5-10 metres)
my own experience:
the mp7a1 is in my opninion a must have pointman gun,i always use it in escort maps to gain multikills and the high rate of fire/low recoil make it soo easy to control (its a great spray gun for new players)
however since it has low damage you either have to get very close or have a good aim at longer ranges (this may be tricky for new players since this requires you to hit your enemy with way more bullets than you might think)
---
---