BLUE SKULL REVIEW

+ Add

Strategy Guide
BLUE SKULL REVIEW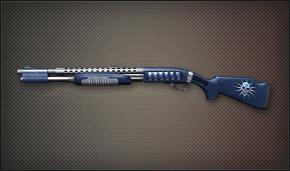 Blue Skull Review
Red Duck Description:
A custom variant of the Remington870 with an improved barrel and other parts to fire 3-inch shells. The increased power comes with a price; the operator can carry fewer shells. Its balls are chemically treated, maximizing overall stopping power against the zombies.
Overview:
The Blue Skull is the most powerful shotgun in AVA with one of the best ranges for all shotguns. It is way better than the normal Remington and if you're looking for a shogun to buy, don't buy the Remington, get this instead! Its greatest improvements are its damage increase, and its ROF increase.
How to get the Blue Skull:
The Blue Skull is obtainable through the capsule shop. It is an AP capsule so you WILL have to spend actual money if you want a chance of winning it. Depends on which type of capsule you want to buy from /300 or /149, it will cost from 100-200 AP per capsule. There is currently no other way of obtaining the Blue Skull.
Blue Skull Advantages:
One of the main advantages of the Blue Skull is its damage. Compared to the Remington it was based on, damage was greatly increased, almost to the point of an FN TPS. Another main feature of the Blue Skull is that it can shoot multiple times while pulling the pump back so you can shoot in succession until you run out of ammo. Although the stats state that the range decreased from the original Remington, it is still very powerful at distances like 15-20m. Compared to the Saiga or Spas-15, people tank the Blue Skull much less. Lastly, there's a cool cosmetic feature about the Blue Skull too, every time the gun fires, there's a blue flash, similar to the Galil Mar.
Blue Skull Disadvantages:
There are little to no disadvantages to the Blue Skull because it is known as overpowered dominate weapon. It is commonly thought of as the best point man weapon in the game, but it really depends on the player. If a player can't aim with single shot weapons such as a shotgun (or semi pistol) then this gun isn't for them.
Blue Skull Stats:
Damage: 90
Range: 8
Accuracy: 34
Stability: 20
Mobility: 40
ROF (Rate of Fire): 25
Ammo: 7
Conclusion:
Overall, the Blue Skull is an excellent gun that exceeds all standards of shotguns. I would recommend this gun to anyone with good aim or fast reaction times. I would rate this gun a 10/10 for its impressive abilities.
If you enjoyed this gun don't forget to fan it and give me more ideas/suggestions for other guides.
-CNTN
I DONT EVEN KNOW WHY IM POSTING THIS
IT WAS SUPPOSE TO LOOK NICER BUT I GAVE UP
---
---