Alliance of Valiant Arms Pointman Class Guide

+ Add

Strategy Guide
Alliance of Valiant Arms Pointman Class Guide
Alliance of Valiant Arms Pointman Class Guide
Introduction:
In AVA, the pointman is the most powerful class in close range combat. The weapons have the highest ROF and DPS but low range. They can also carry shotguns that have low range and ROF but deal massive damage. The pointman class is for people who enjoy close quartercombat, rushing, or even camping in a small area for long periods of time.
Overview:
Pointmen have extremely fast mobility allowing them to rush across the map almost twice or three times as fast as a rifleman or sniper. Their great mobility and weapons with high ROF allow them to flank enemies and kill multiple enemies in seconds. Although they are outperformed by riflemen in mid distances and snipers in long distances, pointmen can run opposite routes and arrive behind or unexpectantly from the side of the opposite class and dominate them from the close range. Although they may not always have high accuracy or stability, ROF is a key factor for all pointmen and allows them to kill quickly and efficiently.
Another main advantage of the pointman class is that they can equip silencers on their weapons (some weapons) that prevent them from appearing on the radar. It also prevents players who sound to easily find them. Although it decreases range and increases the recoil or bloom, it is highly worth it because it allows stealth and increases the chance of a successful flank or rush.
Pointmen aren't always used in normal games, but are also used in melee only games, or sniper no semi (when you knife) games, or even nades only games, because it allows you to run away from the enemy quickly or run to an enemy quickly.
Weaknesses:
The main disadvantage of the pointman is its low range, meaning if you go in to long hallways or are in open areas, you are more likely to be sniped or killed by a rifleman. The other unseen disadvantage is that riflemen have more defenses. Therefore, if you flank them and miss several times and run out of ammo, you are more likely to die.
Class Skills:
Running:
Run speed increase LV1

Achieved upon creation of character

No reward

Running Expert:
Run speed increase LV2

Play 15 hours as a Pointman

10,000 SP

Running Master:
Run speed increase LV3

Play 40 hours as a Pointman

10,000 SP

Trained Landing:
Fall damage decrease

Sprint 30 minutes as a Pointman

10,000 SP

Sneak:
Crouch movement speed increase

Sprint 60 minutes as a Pointman

10,000 SP

Trained Sprint:
Sprint speed increase

Sprint 120 minutes as a Pointman

10,000 SP

Advanced Knife Attack:
Knife range increase

Kill 3 enemies with a shotgun as a Pointman

10,000 SP

Sharp Knife:
Knife damage increase

Kill 5 enemies with a shotgun as a Pointman

10,000 SP

SMG Quick Reload:
SMG reload speed increase

Kill 800 enemies with SMG as a Pointman

10,000 SP

SMG Extra Ammo:
SMG ammo count increase

Kill 2,000 enemies with SMG as a Pointman

10,000 SP
Weapon Recommendations: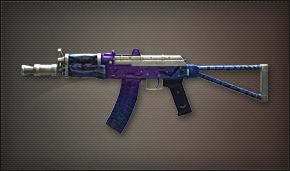 For SMGs, I would recommend using guns such as the Versek, MP7, Thompson, or Desmodus. They all have high mobility allowing you to access different parts of the map quickly and have high DPS and ROF. Both the MP7 and Desmodus also have good range allowing you to take down enemies quickly from 10-25m even with silencer. (MP7 has a silencer, other three don't) The Versek has the highest DPS and mobility so it is great for rushing or flanking.
For shotguns, I would recommend getting a Spas-15, Striker-12, or Blue Skull. The most powerful shotgun in the game is the Blue Skull because it can oneshot enemies from even 20m away although its stats state that its range is extremely low. However, it is difficult to obtain due to it being an AP Capsule weapon. The Spas-15 allows quick movement and has good ROF allowing you to shoot multiple shots before the enemy notices you. The Striker-12 has both impressive ROF and ammo, but has EXTREMELY slow reload time so many people use it just to camp.
Conclusion:
The pointman class is great for rushing and flanking but does mediocre at medium ranges or at long distances, depending on the weapon. If you choose a good weapon, you'll success in close ranges. Most weapons have good stability allowing even the most newbie player to use them. The pointman class is great for anyone that gets bored from slow walking or from camping!
If you enjoyed this guide be sure to fan it and give me more suggestions for new guides!
-CNTN
---
---