Cr5 Tactical

Cr5 Tactical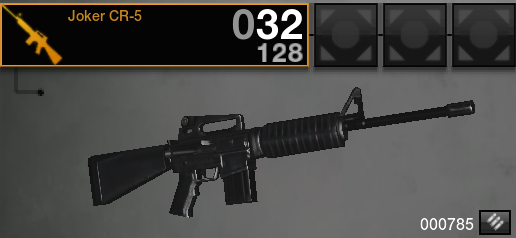 Detail Description of Cr5 Tactical
---
| | |
| --- | --- |
| Weapon | Cr5 Tactical |
| Found in: | Armas-Bundled weapon |
| Type | Rifle Man |
---
| | |
| --- | --- |
| Time to Kill | 0.7Sec |
| Shots to Kill | 6 |
| Health Damage | 195 |
| Stamina Damage | 20 |
| Hard Damage | 23 |
| Dropoff Range | 57m |
| Min Damage Range | 70m |
| Min Damage Range | 100m |
| Minimum Damage % | 30% |
---
Ammo Capacity: 128
Clip Capacity : 32
---
Modifiers
Hunting Sight 3 : Pin-hole target aperture sight noticeably improves accuracy when focusing in marksmanship mode.
Increases benefit of Marksmanship mode by

substantially
Increases zoom level by

5 degrees
Decreases accuracy while running

substantially
Improved Rifling 3 :Precision laser-cut polygonal rifling helps improve the operational range of a weapon, heavily increasing the range it fires without losing damage.
Increases effective

range by +7m
Increases maximum reticle bloom substantially


Mobility Sling :-A Joker manufactured sling designed to act as a stability aid while moving. This allows the user to walk or run faster while in marksmanship mode, though the complex system of attachment does slightly increase weapon draw time.
Increases movement speed in marksmanship by
+50cm/s
Increases Equip time by
+15%


---
This version features an awesome reskin of our old Ntec. This Version looks like the Swat version, its just icing on the cake to play with this and also this version features a different sound !
In a close-range urban environment, it's often the fastest to the trigger that wins. With urban camo, this Joker CR5 helps the user blend into his surroundings, giving him the edge. Comes with 3 open modification slots for full customisability.
Cr5 Tactical is mini snipers with ability over hit most of the long range weapons,when fired in bursts.A single clip of Cr5 Tactical can kill more than 3 people because of its improved damage and controlable recoil.Playing with an Cr5 Tactical is like playing with a much more superior gun than other because of its looks and its nature.This gun can out hit Star and other ARs with same mods or better mods.
The Cr5 Tactical are highly recommended for people who wish to stay alive as long as possible.Its recommended to player with average+ aim,really not good for people who are new at APB.This gun requires medium practice in apb and the player must be patient because it takes a lot of time to understand the game and adapt to the change in playstyle.
---
1st Person Personal Experience
The Cr5 Tactical can out hit any long range gun if the player has good aim and has adapted to it.T The gun not only have good looks but is better than most of the other guns in APB.When i use this gun my scores are better than normal.Highly recommended for average+ players.And Cr5 Tactical is for people who can handle the recoil. !
---
---