Armas Oca - The Whisper (PR1 and PR2)

+ Add

Strategy Guide
Armas Oca - The Whisper (PR1 and PR2)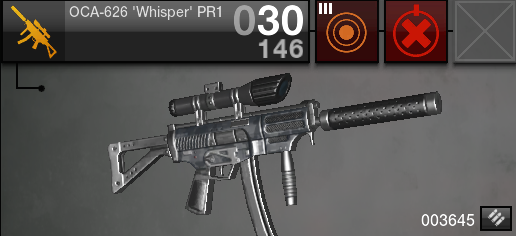 Detail Description of Oca Whisper.
-------------------------------------------------------------------------------------------------------------------------------------------
Weapon : Oca Whisper PR1 and PR2.
Found in : Armas Market Place.
Type : SMG-Pointman.
-------------------------------------------------------------------------------------------------------------------------------------------
Time to Kill : 0.5s-0.7s
Shots to Kill : 8
Health Damage : 100-125
Stamina Damage : 15-20
Hard Damage : 10-15
Damage Dropoff : 50m
-------------------------------------------------------------------------------------------------------------------------------------------
Ammo Capacity: 210(Pr2-315)
Clip Capacity: 30
-------------------------------------------------------------------------------------------------------------------------------------------
Modifiers
Reflex Sight 3 : Increases accuracy while moving substantially
Decreases zoom level by 5 degrees
Decreases benefit of Marksmanship mode substantially
SMG Silencer : Reduces Muzzle Flash and Audio
Reduces Recoil by -50%.
Reduces Damage to Vehicles by -10% (Hard Damage)
Bandolier 3 : Increases stored ammo by +35% (ONLY FOR PR2)
Increases resupply time by +100%
-------------------------------------------------------------------------------------------------------------------------------------------
The 'Whisper' is an upgraded version of normal Oca. It has an inbuilt silencer and integrated scope(looks like a sniper scope) which slightly improves it's medium/long range efficiency.The features Reduced Horizontal Recoil which is really one the best + point of this gun.Since this Oca is preset players cannot change its inbuilt Modifiers which is one of the bad side of Whisper Oca.
Playing with Oca Whisper is like playing COD with muted volume. Since Whisper has silenced sound, the player gets bored with Whisper really very fast but Oca Whisper is 1 of the most Over Powered gun in APB:R.Oca Whisper has hidden modifiers which gives it more range,more power and more fire rate that a normal unmodded Oca.A single clip of Whisper can kill more than 2 players if the player has good aim....
This gun is highly recommended for player who are new to APB or who cant aim well.Playing with Oca Whisper is like playing a game with no recoil hack legally.Most of the time player wont look the radar and its easy to kill them since Whisper doesnt make any sound.This gun is a Perfect gun for sneakingup of players.
Now to bad sides, Even though Whisper is really Over Powered its easy to lose against a normal oca with Cooling jacket 3 upgrade on it(higher fire rate).Since Whisper is really Over Powered the player will be getting a lot of Personal Messages with words that am not supposed to say(figured it out?).Oca Whisper can out hit almost all the guns in the game because of the long range and very low(almost 0) recoil.
-------------------------------------------------------------------------------------------------------------------------------------------
1st person personal experience
Oca Whisper is really fun to use if the player is a really a enthusiast because people will be saying bad words about the Whisper user, dont take those rage words seriously.Whisper is really a gun with almost no recoil and the Silencer is exclusive to Whisper only.When other players see a Whisper user,those guys get mad or frightened because Oca Whisper requires low skill to hunt players down.
After buying an Oca Whisper my scores went like 3x than normal because the gun is really powerful in the hands of an average+ player.
---
---