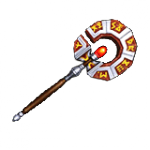 Two-handed weapon
-
Attack: 701 ~ 706
Attack speed: Slow
Added bonus:
INT+35
DMMT +29%
Attack Rate+36%
Required Job: Elementor
Required Level: 120 Master
NPC Price: n/a
-
Not available to purchase from NPCs.
-
Drops from the following Flyff Masquerpets:
Dread Drakul the Diabolic
-
This weapon CANNOT be crafted from the Crafting system. This weapon is dropped as an ultimate weapon. Once these weapons are equiped, they will be soul linked to your character and CANNOT be banked, warehoused, traded or sold.