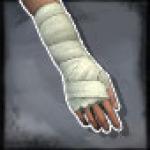 Get ready to throw blows and join the fight club with the new Hand Wraps. Get your fight on!
Able to edit the color of the Hand Wraps.
Once you purchase the Hand Wraps and retrieve them from your mail, go to the Social District, hit the Wardrobe kiosk, click Add New Item and equip your new Hand Wraps.