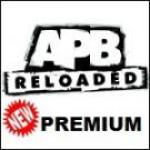 APB Reloaded Premium
Price: $9.99
FanBucks: 999
Best price on APB Premium. Buy it now or earn for free with offers. Take your game to the next level with a 125% bonus to APB$, up to 90% bonus to standing and more! APB Reloaded Premium includes: ·
*Up to a 90% bonus to all Contact Standing (XP) gains!
*125% bonus to all APB$ (in-game currency) gains!·
*20% discount in the Armas Marketplace!·
*50% reduced cooldown on activated abilities!·
*Advanced access to customization suites (up to 100/50/50)!