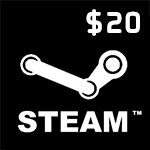 $20 Steam Credits
Price: $20.00
FanBucks: 2,000
Steam is the worlds leading digital game distributor. Use steam credits to purchase new products or classics. You can also use Steam credits to pay for perks in games such as Team Fortress 2.
Add
The Reviews
If you wanted to buy this but never knew where to use it here is the...

The cards work like any other gift card in that there is a printed code on...